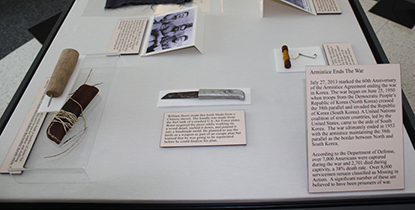 News Release Date:
September 9, 2013
Contact: Bridget A. Beers, 229 924-0343, ext. 113
Andersonville National Historic Site is pleased to announce the installation of Armistice Ends The War, a new temporary exhibit at the National Prisoner of War Museum.
The summer of 2013 marked the 60th Anniversary of the Armistice Agreement that ended the war in Korea. The new temporary exhibit displays objects made and used by POWs to improve their everyday life during internment. Objects and documents on display are from the following prisoners of war: Carl Cossin, William Borer, William Freeman, Ernie Contrearas donated by Billy Jack Lessman, Gaston Gauthier, William Fornes, Billy Jack Lessman, Richard Grenier donated by Rita Grenier, Billy James Niebrand donated by Virginia Niebrand, William H. Hubbard donated by Jeanie Knox, Robert Cater donated by Jean Stanfield, and Jay Rye.
The exhibit opened September 5, 2013 and the public can view it through early February of 2014.
Andersonville National Historic Site is located 10 miles south of Oglethorpe, GA and 10 miles northeast of Americus, GA on Georgia Highway 49. The national park features the National Prisoner of War Museum, Andersonville National Cemetery and the site of the historic Civil War prison, Camp Sumter. ­Andersonville National Historic Site is the only national park within the National Park System to serve as a memorial to all American prisoners of war. Park grounds are open from 8:00 a.m. until 5:00 p.m. The National Prisoner of War Museum is open 9:00 a.m. to 4:30 p.m., daily. Admission is free. For more information on the park, call 229 924-0343, visit on the web at www.nps.gov/ande/, or find us on Facebook at facebook.com/AndersonvilleNPS
About the National Park Service. More than 20,000 National Park Service employees care for America's 397 national parks and work with communities across the nation to help preserve local history and create close-to-home recreational opportunities. Learn more at www.nps.gov.