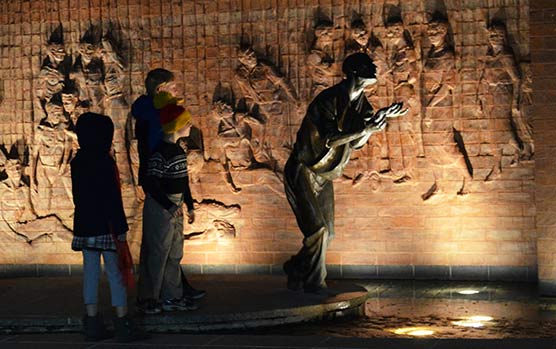 News Release Date:
December 12, 2012
Contact: Eric Leonard, 229 924-0343, x.201
ANDERSONVILLE, Georgia - On the evening of Saturday, January 26, 2013, Andersonville National Historic Site will again hold its "Night Museum" event.
From 6:00 - 9:00 p.m., the National Prisoner of War Museum will be open for a rare nighttime opportunity to view the museum exhibits and experience the prison site.
At the National Prisoner of War Museum, the exhibits, museum and bookstore will be open. At 7:00 p.m. a special presentation, "The Resurrection of Camp Lawton" will occur in the museum theater. The park films Voices From Andersonville will be shown at 6:00 p.m. and Echoes of Captivity will be shown at 8:00 p.m.
From the courtyard at the rear of the museum, the path to the prison site will be illuminated by lanterns, allowing access to the reconstructed northeast corner of the prison site. Among the replica shelters will be living history volunteers, portraying the often-overlooked winter period of the prison in 1864-65.
The special program, "The Resurrection of Camp Lawton" will be presented by Dr. John K. Derden, Professor Emeritus of History, East Georgia College, and will focus on the recent investigations, both archeological and textual, that have illuminated the story of this large, yet little known Confederate military prison.Dr. Derden's most recent book is The World's Largest Prison: The Story of Camp Lawton, published at the end of 2012 by the Mercer University Press. Copies of the book will be available for signing after the program.
"A visit to the National Prisoner of War Museum is a moving experience under any circumstance," stated Superintendent Brad Bennett, "we hope that the Night Museum program will provide new opportunities and new experiences for visitors, especially those who might not have been back recently."
During this nighttime event the prison site tour road and the Andersonville National Cemetery will be closed.
Andersonville National Historic Site is located 10 miles south of Oglethorpe, GA and 10 miles northeast of Americus, GA on Georgia Highway 49. The national park features the National Prisoner of War Museum, Andersonville National Cemetery and the site of the historic Civil War prison, Camp Sumter. ­Andersonville National Historic Site is the only national park within the National Park System to serve as a memorial to all American prisoners of war. Park grounds are open from 8:00 a.m. until 5:00 p.m. with the museum opening at 9:00 a.m. Admission is free. For more information on the park, call 229 924-0343, visit on the web at www.nps.gov/ande/, or find us on Facebook at facebook.com/AndersonvilleNPS
About the National Park Service. More than 20,000 National Park Service employees care for America's 398 national parks and work with communities across the nation to help preserve local history and create close-to-home recreational opportunities. Learn more at www.nps.gov.