MSgt Jennifer Nesbitt to be Featured Speaker at Andersonville Memorial Day Observance
Date:
May 18, 2012
Contact:
Eric Leonard
, 229 924-0343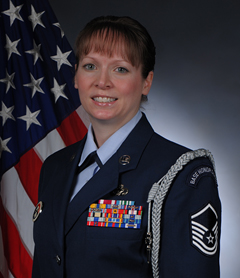 ANDERSONVILLE, Georgia - Air Force Master Sergeant Jennifer L. Nesbitt will be the featured speaker on Sunday, May 27, 2012 at the annual Memorial Day Service in Andersonville National Cemetery.
The program will begin at 2:00 p.m. and will include a Color Guard from Macon County High School Navy JROTC and a Rifle Salute from Robins Air Force Base.The ceremony will feature wreath presentations by several military, civic, and patriotic organizations, including the Friends of Andersonville. Mr. Edward L. DeMent, the National Director, Southeast Region, of the American Ex-Prisoners of War will recognize all veterans in attendance. U.S. Congressman Sanford D. Bishop, Jr. will introduce featured speaker MSgt Nesbitt. Music will be provided by members of the Band of the Air Force Reserve.
Master Sergeant Jennifer L. Nesbitt is the Honor Guard Program Manager for the 78th Air Base Wing, Robins AFB Georgia.She directs the installation Honor Guard program and provides funeral and color guard support in three states over a 70,000 square mile radius.She manages three flights of 25 active duty and 23 Air National Guard and Air Force Reserve members while designing local policies and directives for the administration of the base Honor Guard.MSgt Nesbitt also oversees Honor Guard awards and decorations program, as well as executes 448 hours of annual funeral honors drill instruction.
In preparation for the ceremony, on Friday, May 25, volunteers will raise the Avenue of Flags along the roadways within the cemetery. In the morning of Saturday, May 26, scouting groups and other volunteers from across the state of Georgia will remember and honor the sacrifices of the men and women of the U.S. Armed Forces by decorating the nearly 20,000 gravesites within the cemetery with American flags.
Andersonville National Historic Site is located 10 miles south of Oglethorpe, GA and 10 miles northeast of Americus, GA on Georgia Highway 49. The national park features the National Prisoner of War Museum, Andersonville National Cemetery and the site of the historic Civil War prison, Camp Sumter. ­Andersonville National Historic Site is the only national park within the National Park System to serve as a memorial to all American prisoners of war. Park grounds are open from 8:00 a.m. until 5:00 p.m. with the museum opening at 9:00 a.m. Admission is free. For more information on the park, call 229 924-0343, visit on the web at www.nps.gov/ande/, or find us on Facebook at facebook.com/AndersonvilleNPS
Last updated: January 5, 2018