Annual Civil War Living History Weekend at Andersonville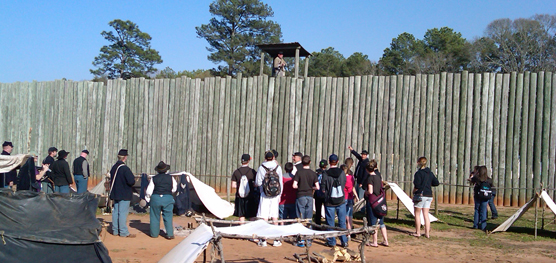 News Release Date:
February 14, 2012
Contact: Eric Leonard, 229 924-0343, ext. 201
Andersonville National Historic Site will host its annual Civil War Living History Weekend on Saturday and Sunday, March 10 and 11, 2012. This educational program offers visitors the opportunity to gain a better understanding of what life was like between 1864 and 1865 at Andersonville, the infamous Civil War prison camp. Union prisoners and Confederate guards will be portrayed by Civil War period living historians, including new youth volunteers from nearby Americus Sumter High School.
"We are witnessing an increasing amount of interest in the Civil War significance of Andersonville as we approach the 150th anniversaries of the Camp Sumter military prison and Andersonville National Cemetery," remarked Brad Bennett, Superintendent. "I am particularly pleased to see the involvement this year of local students who are preparing to tell the personal stories of sacrifice by individual soldiers."
A variety of interpretive programs will be offered on both days, including guard drills and artillery demonstrations. Living historians will be present in the area of the prison site from 10:00 a.m. to 4:00 p.m. on Saturday, March 10 and from 10:00 a.m. to 3:00 p.m. on Sunday, March 11. There is no admission fee and this event is open to the public.
Andersonville National Historic Site is located 10 miles south of Oglethorpe, GA and 10 miles northeast of Americus, GA on Georgia Highway 49. The site features the National Prisoner of War Museum, Andersonville National Cemetery and the site of the historic Civil War prison, Camp Sumter. ­Andersonville National Historic Site is a unit of the National Park System and serves as a memorial to all American prisoners of war. Park grounds are open from 8:00 a.m. until 5:00 p.m. with the museum opening at 9:00 a.m. Admission is free. For more information on the park, call 229 924-0343, visit on the web at www.nps.gov/ande/, or find us on Facebook at facebook.com/AndersonvilleNPS
Last updated: January 9, 2018