Annual Living History Weekend to Return to Andersonville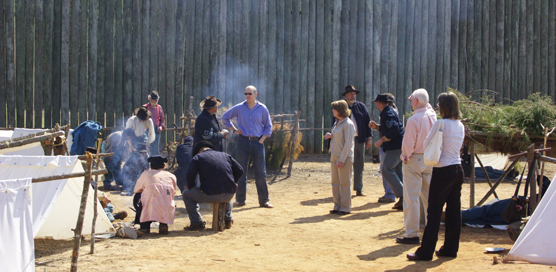 News Release Date:
February 18, 2011
Contact: Eric Leonard, 229 924-0234 x.110
Contact: Candlelight Tour Reservations, 229 924-0234 x.203
Andersonville National Historic Site will host its annual Living History Weekend on Saturday, March 12, 2010 and Sunday, March 13, 2011. This living history program offers visitors the opportunity to see and experience what life was like at Andersonville, the infamous Civil War prison camp. Civil War period living historians will portray Union prisoners and Confederate guards.
A variety of special demonstrations and interpretive programs will be offered on both days and include the arrival of prisoners, shebang (shelter) building, rations issue, Raider attack, inspection of the camp, escape and punishment, guard drill and artillery demonstration. These activities will be presented from 10:00 a.m. to 4:00 p.m. on Saturday, March 12, 2011, and from 10:00 a.m. to 3:00 p.m. on Sunday, March 13, 2011. Limited reservations are available for candle lantern tours of the cemetery on Saturday evening beginning at 7 pm. To make your required reservation, please call 229 924-0343, extension 203. There is no admission fee and this event is open to the public.
Andersonville National Historic Site is located 10 miles south of Oglethorpe, GA and 10 miles northeast of Americus, GA on Georgia Highway 49. The site features the National Prisoner of War Museum, Andersonville National Cemetery and the site of the historic prison, Camp Sumter. Andersonville National Historic Site is a unit of the National Park System and serves as a memorial to all American prisoners of war. For additional information, please call 229 924-0343 or visit us on the web at www.nps.gov/ande
Last updated: April 14, 2015