Things To Do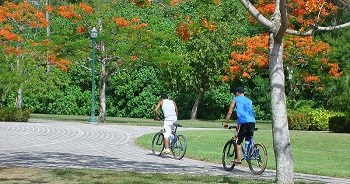 American Memorial Park hosts many local events and activities throughout the year, including graduations, festivals, and ceremonies. Special Use permits may be required for certain park activities.
Visitor Center and Bookstore
The Visitor Center is open daily from 9:00 a.m. to 5:00 p.m. A 22 minute film titled "An Island Called Saipan" is shown from 9:00 a.m. to 4:30 p.m. daily and is available in Chinese, English, Japanese, and Korean. English subtitles are available upon request. The Battle for the Marianas exhibit in the Visitor Center offers guests an account of the events during the Battle of Saipan from June 15 -July 9, 1944. Museum guides are available in Chamorro, Chinese, English, Japanese, Korean and Russian. Public Restrooms are available.
The bookstore located inside the Visitor Center, operated by Pacific Historic Parks, is open during Visitor Center hours, 9:00 a.m. to 5:00 p.m. daily. Books, postcards, apparel and other souvenirs are available for purchase.
Memorial Court of Honor and Flag Circle
Etched into stone plaques are the names of more than 5,000 military personnel who gave their lives during the Marianas WWII Campaign. The Memorial Court of Honor surrounds the Flag Circle where the U.S. Army, U.S. Marine Corps, U.S. Navy, and U.S. Coast Guard flags surround the American Flag.
Carillon Bell Tower
The Carillon Bell Tower is dedicated to the American and Marianas people who gave their lives during World War II. In remembrance, bells chime every half-hour from 8:00 a.m. to 8:00 p.m.
Historic Sites
The park contains many remnant structures from World War II. Scattered throughout the park are Japanese pillboxes, buildings, fuel storage tanks, bunkers, and a bathhouse/garden complex. There is also a Chamorro Latte Stone near the park mall entrance.
Cultural Sites
The first Carolinian village site is marked by a wayside exhibit at Micro Beach.
Wetland Mangrove Forest
The 30-acre wetland and mangrove forest is a remnant ecosystem habitat of the Northern Marianas. The wetlands contain numerous species of plants, trees, flowers, and birds, including the endangered Nightingale Reed-Warbler. The adjacent mudflats are an important migratory bird site.
Trails and Roads
A picturesque bike and walking path runs from Micro Beach, past the Memorial Court of Honor and Flag Circle and Smiling Cove Marina, and ends at the former Puerto Rico landfill. All areas of the park are accessible by paved or well maintained roads and trails.
Programs and Activities
Check the Schedule of Events for current listings.
Amphitheater Stage and Pavilion Complex
Available for private, community, and special events and ceremonies, this outdoor amphitheater consists of a 4,000-square foot stage, bleacher and berm seating for 1,200 people, restrooms, parking lot, and adjacent grassy areas. Use of the amphitheater may require a Special Use permit. Please contact the Visitor Center for more information.
Playgrounds
The playground located near Micro Beach Point, consisting of a jungle gym with slides and swings, was donated by the Saipan Rotary Club in 1997 and remodeled in 2013. Panoramic views of the lagoon and Mañagaha Island are visible from this area. A second playground is located at the park tennis court complex. The playgrounds can not be reserved.
Micro Beach
Historically, it was the site of the first Carolinian village. Navigators would come to this area to interpret the stars at the commencement of their voyage. Today, locals and tourists enjoy the white sand beach and crystal blue waters while looking onward toward Mañagaha Island.
Micro Beach Pavilion
Micro Beach Pavilion, a 1,200 square foot structure, is located close to the beach adjacent to the Micro Beach parking area. Amenities include overhead night lighting, benches, a barbecue pit, nearby grassy area, native plants, and a trash receptacle. No electrical outlets are available. Day use of the pavilion is on a first come, first served basis. Reservations are recommended. For reservations please contact the Visitor Center. Activities or events, other than day use, may require a Special Use permit.
Scenic Pathway
The 1.2 mile scenic pathway, originating at the Micro Beach Pavilion, meanders through the park past picnic areas, a playground, the Memorial Court of Honor, and several historic structures, including World War II Japanese pillboxes, bunkers, and fuel storage tanks. Visitors and locals enjoy walking, jogging bicycling, rollerblading and skateboarding along the pathway. Motorized vehicles are prohibited on park pathways at all times.
Picnic and Barbecue Sites
Picnic tables and barbecue pits are located along the pathway, close to Micro Beach, the playground, and the sports fields. Open for public use on a first come, first served basis. All fires must be contained in barbecue pits off the ground and away from vegetation. Please keep the areas clean and place all trash in the trash receptacles provided.
Smiling Cove Marina
There is a 70-slip marina for 20 to 45 foot pleasure boats. The marina is managed by the CNMI Division of Fish & Wildlife (DFW), Marine Operations Division in cooperation with the National Park Service.The marina was built for private recreational use. Facilities include a parking lot, boat ramp, weigh station, docks, and restrooms. The National Park Service is responsible for activities on marina land, while DFW is responsible for managing the docks, water areas and operations. To contact the Marina Manager, please call Ph.(670) 233-1679.
Outer Cove Marina
A 45-slip commercial boat marina for 25 to 100 foot boats is located at the northeastern Outer Cove peninsula. From here, tour boats depart for water sport activities, Mañagaha Island, an islet located 1.5 miles from Saipan, and sunset cruises in the lagoon.
Center Field
A ball field, several open grassy areas, and picnic tables are available for sports tournaments, fairs, and other community events. A Special Use permit may be required for use. For example, all organized sports or activities of a recurring nature, require a Special Use permit.
Tennis Court Complex
There are four public use tennis courts on the property, three of the courts are lighted from 5:30 p.m. to 8:30 p.m. for night time use. Chewing gum, chewing betel nut, smoking, rollerblading, bicycling, bare feet, boots, and slippers are not permitted on the tennis courts. Use of the tennis courts by groups and for organized events require a Special Use permit.


Last updated: April 9, 2015