Programs for Kids and Youth of All Ages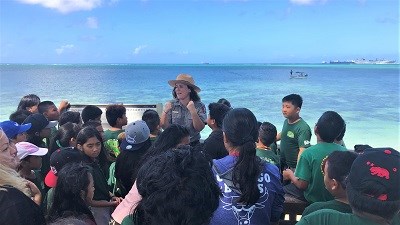 Open Outdoors for Kids
The goal of Every Kid in a Park is to connect 4th and 5th graders with the great outdoors and inspire them to become environmental stewards, ready to preserve and protect national parks and other public land for years to come. In addition, fourth grade educators, youth group leaders and their students across the country can also participate in the program through field trips and other learning experiences.
American Memorial Park offers a variety of activities that fourth graders and their families can enjoy, including field trips, a veriety of junior ranger programs, distant learning educational programs and other activities.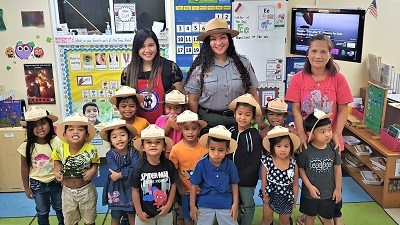 Junior Ranger Program
Wanted: Junior Rangers
Needed: Skill, cunning, and creativity;
Expected: Exploration of park or park website;
Required: Discovering the island's history, legends, and ecosystems;
Promised: Honor and recognition as an official Junior Ranger upon your success.
The Junior Ranger book is filled with activities for all ages. Complete the activities, show your book to a park ranger, and be awarded a Junior Ranger badge! You may request for our Junior Ranger book by contacting Ranger Renee Manibusan at reneeann_manibusan@nps.gov.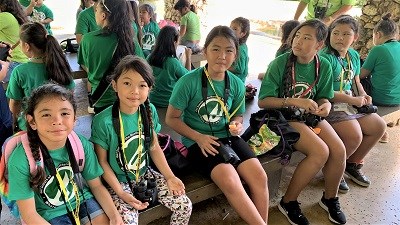 Girl Scout Ranger Program
National Park Service and Girl Scouts of the United States of America have partnered to create the Girl Scout Ranger Program. Girl Scouts are invited to participate in a variety of existing, organized educational or service projects at National Park sites.
Girls can participate in the Girl Scout Ranger Program through a troop, event, travel, or camp experience, and will be awarded a program certificate and/or patch upon completion for their Girl Scout grade level.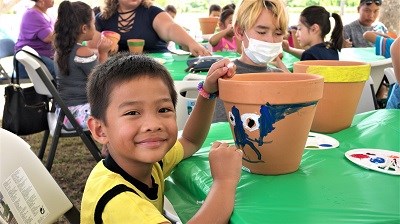 Art in the Park
The National Park Service's Art in the Park program brings together artists and visitors to add a creative element to the park experience. Art in the Park activities allow you to tap into your creativity and experience the park in a whole new way.
At American Memorial Park Art in the Park programs are designed to inspire new ways of enjoying the beauty and wonders of our park, and also encourage visitors to pause and savor their surroundings. In addition, we offer a veriety of hands-on art activities for the youth and their families.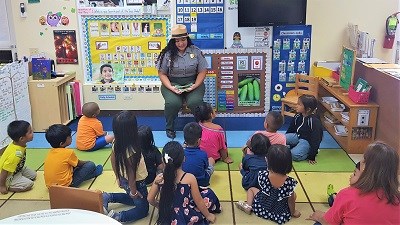 Reading Rangers
A Reading Ranger program was developed to bring awareness to students and teachers of the opportunities for learning through the National Park Service.
American Memorial Park and our partnering association, Pacific Historic Parks, pride themselves for having successfully conducted a number of Reading Ranger activities with kids of all ages. Our programs offer engaging and educational experiences while improving reading fluency and comprehension for the kids.
We invite teachers and parents to inquire about upcoming Reading Ranger programs at American Memorial Park.


Last updated: August 30, 2023