Honoring Their Sacrifice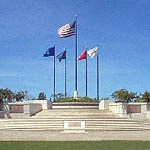 The Memorial Court of Honor and Flag Circle was dedicated on June 15, 1994, the 50th Anniversary of the American landings on Saipan. The American Flag is proudly displayed at the center of the Flag Circle and is surrounded by the flags of the U.S. Navy, U.S. Marine Corps, U.S. Army and U.S. Coast Guard, the armed services divisions that participated in the campaign. Designed to honor those who sacrificed their lives during the campaign, the Memorial Court of Honor consists of 26 granite panels inscribed with the names of 5,204 service personnel who perished.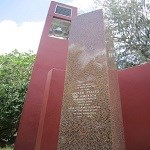 The American Battle Monuments Commission erected the Saipan American Memorial, which commemorates the Americans and Chamorros who died during the liberation of Saipan, Tinian, and Guam from June 15 to August 11, 1944. The memorial is a 12-foot rectangular obelisk of rose granite and is inscribed with the following: This memorial has been erected by the United States of America in humble tribute to its sons who paid the ultimate sacrifice for the liberation of the Marianas. 1941-1945
The Carillon Bell Tower is adjacent to the obelisk and was dedicated on November 11, 1995, to commemorate the 50th Anniversary of the end of World War II. Bells chime every half-hour from 8:00 a.m. - 8:00 p.m.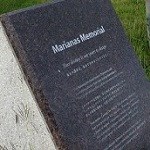 The Marianas Memorial was dedicated on June 13, 2004, in memory of indigenous Chamorros and Carolinians of the Northern Marianas who died during World War II. Caught in a war not of their making, the people of the Northern Marianas, like many civilians throughout the Pacific, became victims of war. The Marianas Memorial honors Chamorros and Carolinians who lost their lives as a result of war-related causes from the beginning of American aerial bombardment in Saipan on June 11, 1944, to the closure of civilian camps on July 4, 1946. The memorial consists of ten granite panels listing 929 names.




Last updated: June 16, 2022