Battle of Tinian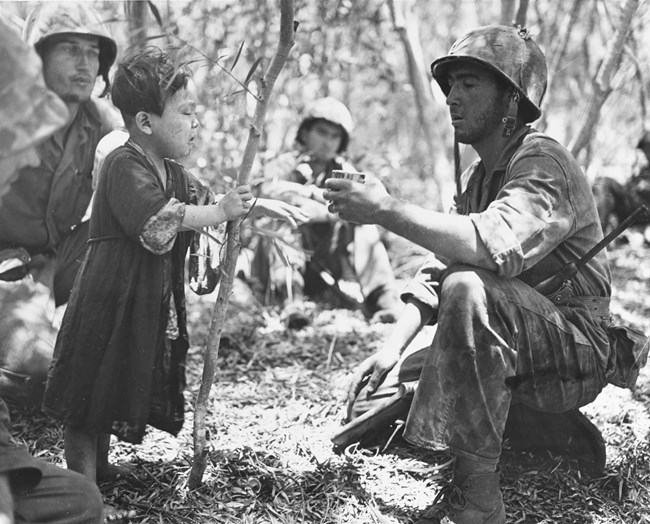 On 24 July 1944, about 15,600 men of the 2nd and 4th Marine Divisions landed on the Island of Tinian.
Tinian is the third largest of the Mariana Islands, with a length of about 10.5 miles and an area of about 50 square miles. Unlike most of the other Marianas, it is almost flat. Tinian is about 5 nautical miles southwest of Saipan. Tinian was part of Japan's South Pacific Mandate. By June 1944, it had a population of 15,700 Japanese and Okinawan civilians, including 2,700 ethnic Koreans and 22 ethnic Chamorros.
Detailed planning for the American landings on Tinian did not begin until June 1944, when detailed reconnaissance was carried out even as Saipan was being conquered. The plan called for a shore-to-shore operation using the same assault forces as the Saipan invasion. Preliminary bombardment commenced on 16 July, with three battleships, five cruisers and sixteen destroyers. The preliminary bombardment included the first field trials of napalm bombs.
On 24 July 1944, about 15,600 men of the 2 and 4 Marine Divisions came ashore under the overall command of V Amphibious Corps (USMC General Harry Schmidt). They were opposed by a battalion with a company of light tanks and other small units totaling about 6,200 men.
General Smith considered the battle "the perfect amphibious operation in the Pacific War." With the help of Seabee ingenuity and General Schmidt's clever deception plan, the Marines were able to land along the Northwest coast with its two small beaches. By 0800 three Marine battalions were ashore in just 20 minutes, followed by bulldozers and later tanks. The remainder of the island was quickly overrun. The Ushi Point airfield was seized on 26 July. Smith declared the island secured on 1 August.
By 10 August 1944, 13,000 Japanese civilians were interned, but up to 4,000 were dead through suicide, murdered by Japanese troops, or killed in combat. The Americans lost 389 killed and 1816 wounded. A total of 252 Japanese troops were taken prisoner and the rest of the garrison was wiped out, with the Americans counting over 5000 bodies. American intelligence believed there were 9000 troops on the island, creating a postwar mystery over the fate of the remaining 4000. However, historians have since concluded that there were only 6200 Japanese troops on the island.
After the battle, Tinian became an important base for further Allied operations in the Pacific campaign. Camps were built for 50,000 troops. Fifteen thousand Seabees turned the island into the busiest airfield of the war, with six runways for attacks by United States Army Air Forces B-29 Superfortress bombers on enemy targets in the Philippines, the Ryukyu Islands, and mainland Japan, including the firebombings of Tokyo and the atomic bombings of Hiroshima and Nagasaki.
Sources: Naval History and Heritage Command, The Pacific War Encyclopedia, NPS
Last updated: June 10, 2022