Battle of the Philippine Sea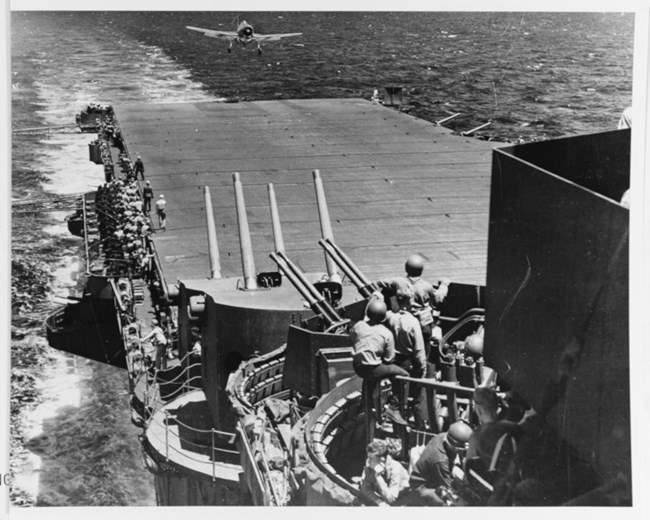 The Battle of the Philippine Sea, the largest aircraft carrier action in World War II, began on June 19, 1944.
The security of the Marianas Islands was vital to Japan, which had air bases on Saipan, Tinian, and Guam. By June 19, 1944, U.S. troops were already battling the Japanese on Saipan, having landed there on the 15th. Any further intrusion would leave the Philippine Islands, and Japan itself, vulnerable to U.S. attacks.
To prevent this from happening the Japanese sent their fleet on an inevitable collision course with the American Navy. The Japanese fleet was considerably weaker than the American fleet. The U.S. had 7 fleet carriers and 8 light carriers compared to Japan's 5 fleets and 4 light carriers. In essence, the Americans were superior in every other category of ship except heavy cruisers.
The commander of the Japanese carrier force, Ozawa Jisaburo, however, counted most heavily on the proximity of Japanese airfields, particularly at Guam, Rota, and Yap. Ozawa believed he could count on the support of some 500 land-based aircraft, which would have given him a slight numerical advantage over the Americans.
The Fast Carrier Task Force (Task Force 38 & Task Force 58) took part in all the US Navy's battles in the Pacific during the last two years of the war. TF 58 was created on 6 January 1944 with Rear Admiral Marc Mitscher commanding, serving under the fleet command of Admiral Spruance in the Fifth Fleet.
On June 19, 1944, on the first day of the battle of the Philippine Sea TF 58 battled waves of Japanese air raids, shooting down hundreds of enemy aircraft in what became known as the "Marianas Turkey Shoot."
The Japanese lost two aircraft carriers, Shokaku and Taiho. They were sunk by submarine torpedoes from USS Cavalla (SS-244) and USS Albacore (SS-218), respectively. The following day, with the Japanese in retreat, Task Force 58 attacked with a late afternoon strike that sank the Japanese carrier Hiyo and two oilers. In total, the Japanese lost 480 aircraft, three-quarters of its total, not to mention most of its crews.
The battle was the last of five major "carrier-versus-carrier" engagements between American and Japanese naval forces. This was also the largest carrier-to-carrier battle in history. Although the battle appeared to be a missed opportunity to destroy the Japanese fleet at that time, the Imperial Japanese Navy had lost the bulk of its carrier air strength and would never recover.
American domination of the Marianas was now a foregone conclusion. The path was cleared for the forthcoming occupation of Guam, Tinian, and the rest of the Marianas.
Sources: Naval Heritage Command Center, NPS
Last updated: June 25, 2021