Fishing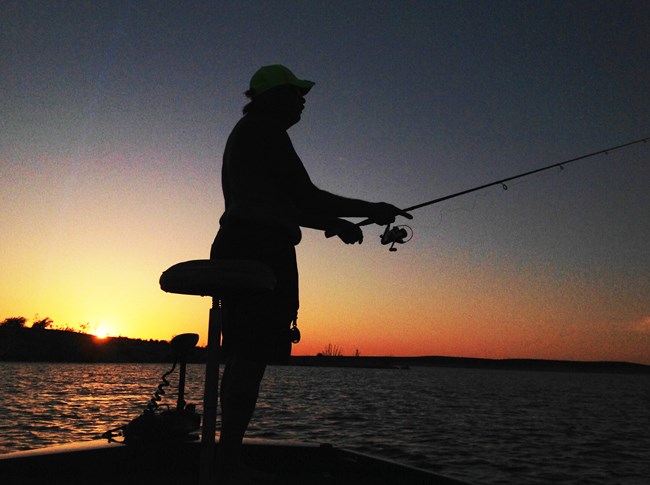 Cast a Line
The clear, blue water of Lake Amistad provides excellent fishing opportunities. Largemouth and white bass, stripers, and channel and blue catfish attract many anglers to Amistad. Information about the conditions and lake record fish can be found on Texas Parks & Wildlife Department's Amistad Reservoir fishing page. But, before you cast your line, here are a few things you should know.
Prepare to Reel It In!
Many people underestimate the time they will be fishing and the hazards they may encounter. So, it is important to adequately prepare by bringing and drinking sufficient water, wearing sun protection, and reviewing park safety suggestions. Be sure to check current conditions and weather at Amistad National Recreation Area and plan for any surprises, like thunderstorms. Of course, you should bring the right gear (and buddy!) for the type of fishing you plan to do. It is recommended to wear life jackets or PFDs (personal floatation devices) any time you are on or near the water.
License Requirements
Texas fishing license requirements and regulations apply when fishing on the United States side of Amistad Reservoir. The border with Mexico is indicated by numbered buoys (numbered RG1 to RG28) running along the main channel of the Rio Grande.

When in Mexican waters, you must adhere to Mexico's fishing regulations, which differ from Texas in terms of size and catch limits. For current Mexico fishing license information, visit www.sportfishinginmexico.com or call (619) 233-4324. Information on Mexican permits may also be obtained locally from:
Amistad Marine at 7348 US Hwy 90 W across from Spur 454 or by phone at (830) 775-0878.
Three Rivers RV Park at 9670 US Hwy 90 W or by phone at (830) 778-2241.
Where Can I Fish?
You may fish from shore anywhere outside of harbors and designated swim areas. Fishing is prohibited in harbors and swim areas because hooks and fishing line can result in damage, injury, or drowning. A courtesy fishing dock is currently available at the Rough Canyon camping area (only accessible by boat). If you'd like to fish from your boat, there is some additional information you will need to know to get your vessel on the water.
Fish Cleaning Stations
When fishing at Amistad, please do not put fish remains into the lake. Since the remains do not decompose easily in cold, fresh water, the lake can become polluted. And, fish remains in trash cans can attract wildlife, which can lead to unexpected and dangerous human-animal interactions. For your convenience, fish cleaning stations are located at Diablo East, Pecos, and Rough Canyon. Thank you for using these fish cleaning stations to help keep your park and its visitors and animals safe.


Looking to Change Your Game? Try These!
Tournaments
Many fishing clubs hold tournaments on Lake Amistad. If you are looking to hold a tournament, visit our Fishing Tournament Policy page for information on permits, policies, and fees. Please register your tournament at least two weeks in advance to allow adequate time for paperwork to be processed.
Fishing Guides
Guides are required to have Commercial Use Authorizations from the park verifying they are licensed and insured businesses authorized to provide visitors additional options in exploring this wonderful resource. Please note that while the National Park Service issues these permits, it does not provide any specific recommendations, nor does it assess the specific content of the tours through the current authorization process. You should interview the guide to ensure that they will meet your personal needs.

Guides interested in operating within Amistad National Recreation Area should visit our Commercial Use Authorization page.
Last updated: August 25, 2023