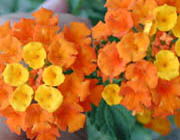 Amistad National Recreation Area's flora contains elements from three major plant communities. This is due to our location in a transition zone between a more humid Gulf of Mexico-influenced climate, the drier Chihuahuan Desert, and the hills of the Edwards Plateau.
Link to Amistad's plant list produced by the Plant Resources Center of the University of Texas at Austin by clicking here.
Amistad's Plant Communities
Tamaulipan Shrubland
Our region is at the western limits of a Gulf of Mexico-influenced climate. Plants common to the southeast, from the state of Tamaulipas, Mexico, are at their northern and western limits. These plants have adapted to a very irregular precipitation pattern with frequent high humidity. The Tamaulipan Shrubland is characterized by the many species of acacia;including huisache, blackbrush, and guajillo (scientific names can be found in our Field Guide section). Cenizo, mesquite, and retama are other species typical of this more tropical flora.
Chihuahuan Desert
Many plants from the Chihuahuan Desert have their eastern limits in the Amistad area. Creosote bush, lechuguilla, and a variety of cactus species are good examples. By the time you reach the Big Bend region, the vegetation consists of true desert species.
Edwards Plateau
Some species, like oaks and junipers (cedars), are occasionally found around the reservoir, especially in the upper reaches of the Devils River. They represent Edwards Plateau flora from the north. The Edwards Plateau is also known as the Texas Hill Country.