History & Culture
Native American Pictographs
The Amistad NRA area is home to dramatic 4,000 year-old rock art. These mysterious paintings adorn rock shelter walls in the upper reaches of Amistad Reservoir. Boaters can usually access Panther and Parida Caves (depending on lake level), and hikers can go on a guided tour at nearby Seminole Canyon State Park and Historic Site.
See How to See Rock Art for more information.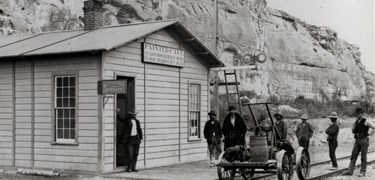 Taking a closer look at the modern landscape of Lake Amistad can tell a person much more about the history of the area than they might at first expect. Surprisingly, the history of the Lower Pecos River Region begins far before the U.S. Military's early camps and outposts and goes far beyond the beginning days of the Southern Pacific Railroad. The first visitors to the canyons that now form Amistad NRA arrived some 12,000 years ago following herds of large ice-age animals that grazed the grassy upland plateaus and ventured deep into the canyons for water. And although the people might be gone, they've left a legacy of their lifeways in the artifacts and rockart that grace the canyon walls.

Last updated: February 13, 2017