How to See Pictographs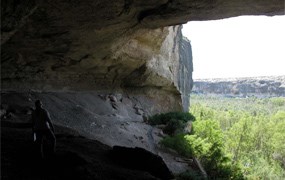 Nestled along the United States-Mexico border in southwestern Texas and northwestern Coahuila, the Lower Pecos River Archeological region encompasses an area of about 7900 square miles. Though this cultural region is fairly small, more than 2,000 archeological sites have been recorded. These sites cover a time span from the 19th century to over 10,000 years ago. Over 325 pictograph sites have been documented containing some of North America's oldest and largest pictographs (rock paintings). These pictographs range in size from isolated motifs just a few inches tall to huge panels stretching more than 100 feet along the back of rock shelter walls. For readers unfamiliar with the region, or for those who want more in-depth information about archeological and historical sites throughout Texas, be sure to visit www.texasbeyondhistory.net.

Unlike other remote regions in the western United States, the vast majority of pictograph sites in the Lower Pecos River region are situated on private property and are therefore not open to public visitation. Over the years, many well-intentioned (and some not so well-intentioned) visitors have deliberately trespassed on private land to visit rock art sites that they had seen either on television or illustrated in books and articles. Many ranchers object to strangers wandering around on their property and may file charges against anyone caught doing so. However, there are legal ways for visitors to see the region's world-class prehistoric pictograph sites.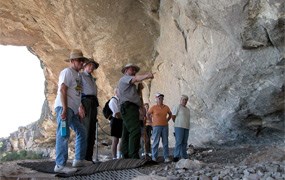 Seminole Canyon State Park & Historic Site, located nine miles west of Comstock, TX on Highway 90, offers rock art connoisseurs one of the most complete venues in the region featuring a bookstore, campground, and interpretive center. Twice daily (Wednesday through Sunday) guided tours are offered to the Fate Bell and Fate Bell Annex pictograph sites. Contact the park for current tour schedules and fees. In 2006, more than 4,500 visitors took this one-hour hiking tour. Additional guided tours to remote sites in the park are offered on an irregular basis for a nominal fee and require advance registration. Those willing to brave the eight hours of very strenuous hiking and climbing on the Presa Canyon Tour are rewarded with the rare opportunity to visit several of the park's pictograph sites which are normally closed to the public. Another of the parks irregularly offered tours, known as the Upper Canyon tour, takes about two hours of moderate hiking and includes stops at two pictograph sites and several 19th century railroad sites. Those planning a trip to Seminole Canyon should call (432) 292-4464 for more information.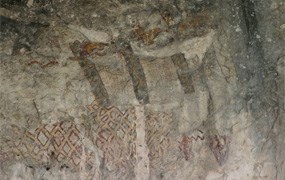 The National Park Service manages over 540 miles of shoreline on the U.S. side of the International Amistad Reservoir. Amistad National Recreation Area has two major rock art sites open for public visitation; Panther Cave (which is jointly managed with Seminole Canyon State Park) and Parida Cave. Both sites were developed years ago and are intended to provide boaters with recreational opportunities that compliment Seminole Canyon's land-based activities. A note to visitors: In recent years, regional droughts have resulted in lowered lake levels, sometimes by more than fifty vertical feet. As a result, there have been times when both Parida and Panther Caves have been closed to boaters because of dangerous river conditions on the upper part of the reservoir. Anyone wishing to visit either site should check lake conditions prior to making a trip by calling the park visitor center at (830) 775-7491.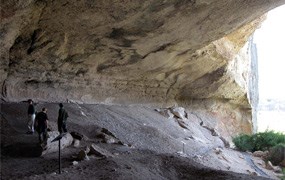 Parida Cave, once known as Painted Caves Station, was a welcome stop for travelers riding on the Southern Pacific's transcontinental railroad in the 1880s and early 1890s. Though the station was only open for nine years, from 1883 to 1892, travelers had already painted graffiti over and adjacent to the prehistoric pictographs at the site. National Park Service excavations in 1967 revealed that, though horribly looted, the site still had deeply stratified and well-preserved archeological materials, portions of which date back more than 5,000 years. Today, Parida Cave's expansive interior features more than 300 feet of designated trails, interpretive signage, and an unparalleled opportunity to experience the sights and sounds of a remote prehistoric rock shelter. A boat dock provides access to the site but may be removed at low water levels. Check conditions before making a trip by calling the park visitor center at (830) 775-7491.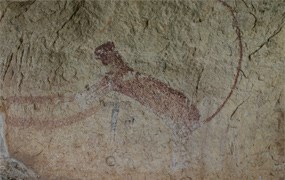 Panther Cave is the region's most famous pictograph site. The rear wall of the shelter is covered floor to ceiling with hundreds of motifs which collectively form an uninterrupted panel more than 100 feet in length. The namesake of the site, a giant red-painted mountain lion or panther, is over ten feet long from nose to the tip of the tail. Visitors should check lake conditions prior to making a trip by calling Amistad's visitor center at (830) 775-7491. Low lake levels can prevent access through the mouth of the Pecos from the Pecos boat ramp (14 miles round trip.) The next closest boat ramp is Box Canyon (60 miles round trip.) From the boat dock at Panther Cave, visitors climb a sixty-foot steel staircase up to the rock shelter. A steel fence and an elevated catwalk limit where visitors can walk and helps reduce potential damage to vegetation and buried archeological remains. The steel fence, designed to maximize photographic vantage points, was completed in 1996 by the NPS. Unobtrusive interpretive panels provide visitors with information about the pictographs, the prehistoric cultures that once lived in the reservoir basin, and the need to protect and preserve Panther Cave as well as to the other sites in the region.
In addition to the region's State and National parks, the Witte Museum Rock Art Foundation offers opportunities for visiting additional sites which are not on public lands.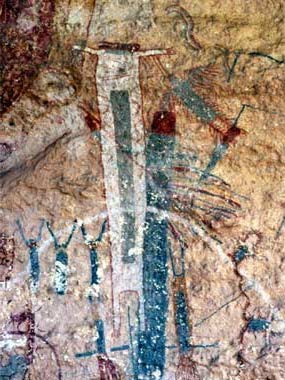 The Witte Museum leads tours to the White Shaman Preserve, overlooking the Pecos River, two miles west of Seminole Canyon State Park. It also offers regular trips to some of the region's most famous rock art sites. The RAF has published several research reports including a detailed examination and conservation assessment of the Lewis Canyon Petroglyph site. Their most recent project has been to produce a CD-ROM featuring Lower Pecos Region pictographs. The RAF website (above) has one of the best pictorial presentations available on regional rock art available anywhere on the Internet.
"Know Before You Go" should be the watchwords for anyone wanting to see the pictographs of the Lower Pecos region of southwest Texas. Seminole Canyon State Park & Historic Site is a sure bet if you have little time or are just passing through the area. For heartier folks, Presa Canyon and Upper Canyon tours offer the experience of a lifetime. If you have or are renting a boat, the Panther Cave and Parida Cave trip provides the best that the region has to offer. Or, you can join one of the regional rock art foundations and make annual treks to participate in sponsored activities for many years to come. No matter what you choose to do be sure to check local web sites first to insure that "you know before you go."
Last updated: November 6, 2023