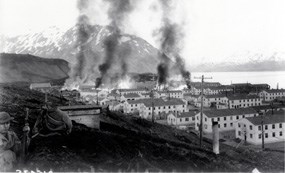 Raid on Dutch Harbor! June 3-4, 1942
Nearly six months to the day after Pearl Harbor, the Japanese struck again on American soil. The bombing of Dutch Harbor signalled the beginning of the Aleutian Campaign and led, in part, to the evacuation and internment of American civilians for the duration of the war.
Learn more about the bombing of Dutch Harbor,
the Japanese pilots, the American defenders, the innocent victims, and the aftermath.