Safety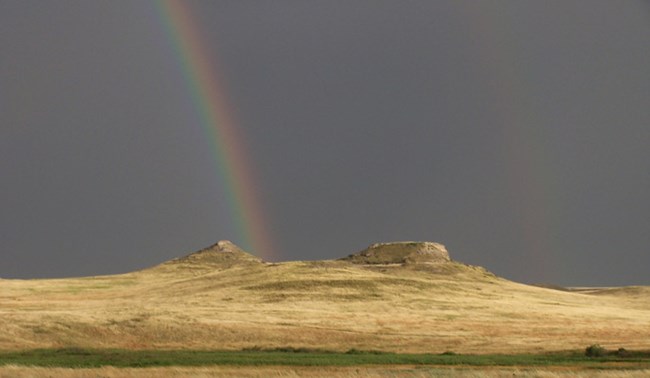 Weather:
Agate Fossil Beds can experience extreme weather any season of the year. Be weather-aware and be prepared, to make your visit safe and enjoyable.

Summer: Keep your gas tank at least half-full, and check your tires. Carry plenty of water and snacks for all travelers in your vehicle. Agate Fossil Beds is 4,680 feet above sea level, which leads to faster sunburns and faster dehydration. Wear sunscreen and bring water on your hikes!

Afternoon thunderstorms are very common in the summer. Keep an eye on the sky when setting out on our trails. Remember, when thunder roars, go indoors. If you can hear thunder, you are within striking distance of the next bolt.

Winter: A full tank of gas and appropriate (and correctly inflated) tires are even more important in our unpredictable winters. Bring a winter travel emergency kit with items like water, food, blankets and flares. If you are stuck in blizzard conditions, DO NOT LEAVE YOUR CAR. Run the engine to power the heater for short times, then shut the vehicle off to avoid the chance of carbon monoxide building in the passenger area.
Animals:
Agate is home to many prairie animals. Just remember that any wild animal will protect itself no matter how small it is. Most visitors are most worried about the Prairie Rattlesnakes that live in this area. This is the only venomous snake that live here. The best strategy to use is to be alert of your surroundings. In cool weather snakes will be on the roads and trails trying to warm up. In warm to hot weather the snakes will be hiding under rocks, sage or in holes. Knowing where you are putting your hands and feet can keep you out of harm's way.


Last updated: May 9, 2021