Safety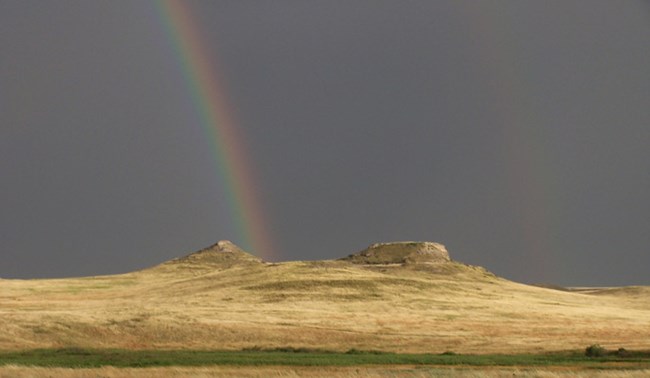 Weather:
Agate Fossil Beds can experience extreme weather.
Being aware of the weather and being prepared will make your visit safe and enjoyable. When traveling in the wide open spaces of western Nebraska in the heat of summer be sure to keep the fuel in your car above half a tank and check the condition of your tires. Carry plenty of water and snacks for all travelers in your vehicle. If you should find yourself waiting on the side of the road for assistance, apply sunscreen and be aware of traffic. During the winter months, keep your fuel tank full, check the condition of your tires and carry a winter emergency kit. This kit may include water, food, blankets, flares,etc. If you encounter blizzard conditions and become stuck, do not leave your car. Run the heater for short times, then shut the vehicle off to avoid the chance of carbon monoxide building in the passenger area.
Animals:
Agate is home to many prairie animals. Just remember that any wild animal will protect itself no matter how small it is. Most visitors are most worried about the Prairie Rattlesnakes that live in this area. This is the only venomous snake that live here. The best strategy to use is to be alert of your surroundings. In cool weather snakes will be on the roads and trails trying to warm up. In warm to hot weather the snakes will be hiding under rocks, sage or in holes. Knowing where you are putting your hands and feet can keep you out of harm's way.


Last updated: November 20, 2017