Indoor Activities

Fossil Diorama and Displays
A feeling of "then and now" radiates from the life-size diorama showcasing mounted skeletons--they're replicas--of the surprising Miocene Epoch mammals discovered in historic Agate Springs quarries. Meet the scavanging Dinohyus ("Terrible Pig"), the long necked, claw toed Moropus ("Sloth Foot"), or snarling carnivore Beardogs. Where did paleontologists find the fossils we later used for these plaster casts? In the Fossil Hills, visible through three large windows beyond the diorama. Which you can hike after touring the museum!

In addition to our diorama, you can see real bone fossils, trace fossils, and mounted skeletons of mammals that lived in this area 20-23 million years ago. Many of these things invite the visitors to interact with them like a scientist. The visitor center also shows a 12-minute video about this place and its importance to the study of the Age of Mammals, called "The Fossil Hills."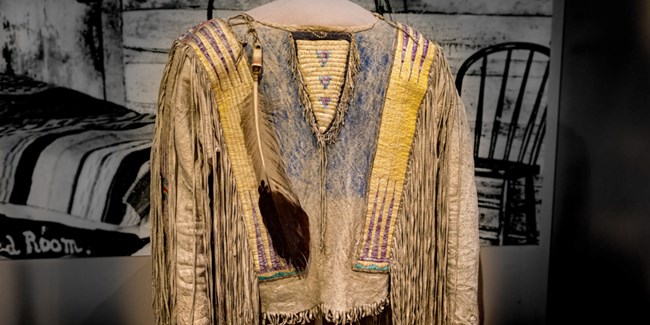 James H. Cook Collection: A Window Onto Lakota Life
Two rooms of the visitor center are dedicated to James Cook's family and their interactions with Chief Red Cloud of the Lakota Sioux.
This light and climate controlled exhibit displays amazing examples of craftsmanship and historical significance.
Check out Chief Red Cloud's chief shirt, the war club American Horse used to kill Captain William Fetterman, an elk hide painted with the Lakota and Cheyenne tribes' side of the Battle of Greasy Grass (aka "Custer's Last Stand"), and many other fascinating items.
If you're on a road trip through the Northern Plains and visiting other sites related to the Plains Indian Wars, like Fort Laramie and Fort Robinson, this exhibit is a must-see.


Last updated: August 27, 2021