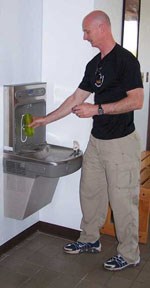 Camping
Although located in a remote area, Agate Fossil Beds National Monument does not allow camping within park boundaries.
Camping
to the south
of Agate Fossil Beds can be found in Scottsbluff, Gering, and Mitchell. Mitchell, the closest of these communities, is 34 miles south of the monument. Primative Camping is available 6 miles south of Agate Fossil Beds National Mounument at Panhandle Road Camping (308-665-5165 or 308-668-2367.)
Camping
to the north
can be found at Nebraska Game and Parks Commission's Gilbert Baker Wildlife Management Area (308-665-2924) five miles north of Harrison. RV camping is available at the Harrison city park, where there are 2 "donation" hookups. Camping is available at the Sage Motel (308-665-5300) on Hwy 20 in Harrison. Primitive and RV camping can also be found at Fort Robinson State Park (308-665-2900), which is on Highway 20 about 20 miles east of Harrison. North and west near Van Tassell, WY is Patty's Camping (307-575-0439.)
To the east
of Agate Fossil Beds National Monument (1 1/2 miles east of the visitor center) is Pavement Ends Campground (308-665-5524) with both tent camping and full hook-ups.
Concessions
Agate Fossil Beds has a coin-operated soda machine in the visitor center and museum lobby. It offers a variety of canned and bottled sodas and juices. Water is not sold, but is available at water fountain and bottle-filling station also located in the lobby.
Fuel
The gas station closest to the monument is 25 miles
to the north
, in Harrison. Harrison's filling station is open weekdays during normal business hours and Saturdays during the morning hours. Gas stations
to the north
that are open seven days per week can be found in Crawford, Nebraska, which is 25 miles east of Harrison, and in Lusk, Wyoming, which is 31 miles west of Harrison.
The nearest gas station
to the
south
of the monument is 34 miles away, in the town of Mitchell.