Bus Tours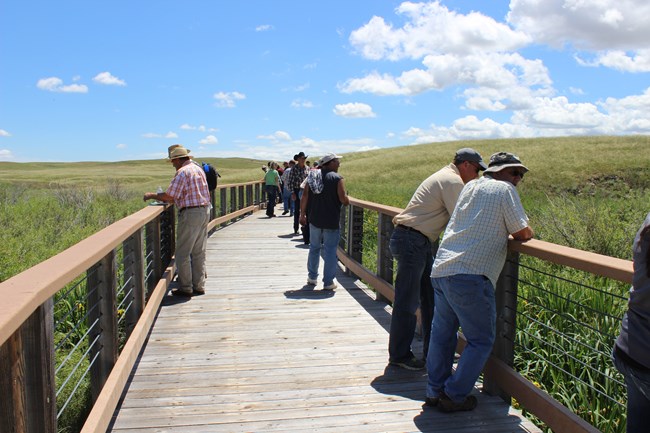 A stop at Agate Fossil Beds National Monument is a natural addition to the western Nebraska experience as well as a link between I-80 and the Black Hills. The state highways are well maintained and you won't find a lot of traffic on them.
Bus tour groups are welcome at Agate Fossil Beds National Monument. Buses park in the RV parking and there is no fee. Groups focusing on Fossils and Paleontology and Western and Native American History will find the park interesting.
Fossil Sites can be found along "The Fossil Freeway" with Agate Fossil Beds a world class example of Miocene age mammals. Rangers will explain the animals found here and the excavations that went on in the early 1900's.
Another story told here is the story of a friendship between two cultures. James Cook, owner of Agate Springs Ranch, and Red Cloud of the Oglala Sioux became friends and over the years members of the Oglala Sioux, Northern Cheyenne and other groups visited the ranch. During their visits they gave gifts to the Cook family and many of them are now on display in the James H. Cook Gallery.
The visitor center houses displays about the Miocene age mammals, the James H. Cook Gallery, a twelve minute movie called The Fossil Hills and a small bookstore managed by the Oregon Trail Museum Association.
Two walking trails are available as well; the Fossil Hills Trail, 2.7 miles round trip, starts at the visitor center and explores the historic excavation sites and on the one mile round trip Daemonelix Trail near the entrance to the monument you will find a unique trace fossil in a corkscrew shape. If you are short on time a bridge over the Niobrara River is just ¼ mile from the visitor center door.
Please call or e-mail to let the park know when you will be visiting and rangers will be on hand to answer your questions and make your visit pleasant.
Last updated: May 8, 2017