Accessibility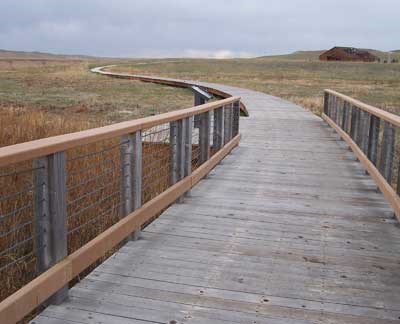 Wheelchair Accessibility
For visitors with mobility impairments, there are reserved parking spaces in the parking lots located at the visitor center and museum as well as at the Daemonelix Trail trailhead. The picnic area adjacent to the visitor center and museum is accessible by paved and gravel trails and features wheelchair-friendly tables. The visitor center complex, including the museum exhibits, is wheelchair accessible.
A wheelchair is available on request for onsite use.
The Fossil Hills Trail, a 2.7-mile (4.3 km) round-trip trail that begins at the visitor center, is a 5-foot-wide wheelchair-accessible paved trail.
The Daemonelix Trail, a 1-mile (1.6 km) loop trail, has a stabilized, crushed rock surface. The trail's wheel-chair accessible lower portion includes two Daemonelix formation exhibit cases.
For visitors who want to preview the trails or see what they contain without going out-of-doors, a touch-screen-activated interactive hiker with closed captioning is available in the visitor center.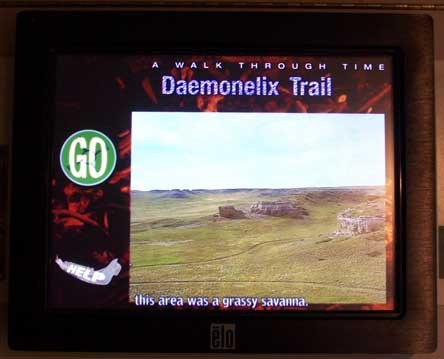 Accessibility for the Hearing Impaired
The monument's orientation film, The Fossil Hills, and its interactive hiker in the visitor center feature closed captioning.
Accessibility for the Seeing Impaired
The monument's brochure is available in Braille.
Service Animals
All service animals on a 6 ft. leash are welcome in the visitor center and museum and on the monument's hiking trails.


Last updated: February 1, 2018