Accessibility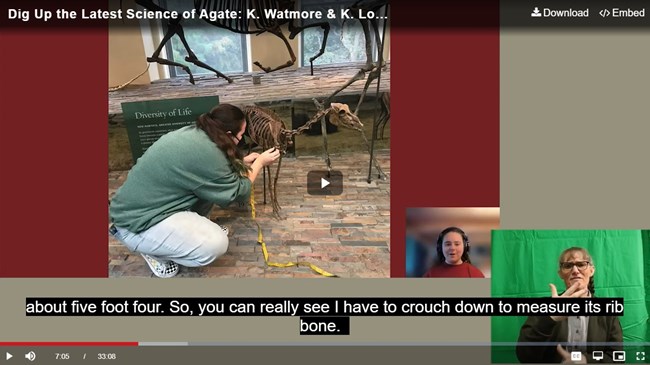 ASL Videos
Picture in Picture interpreted videos also available in the video section of the website.

A park ranger fluent in American Sign Language (ASL) works in the visitor center. Please call ahead to ask about her schedule or availability for programs.
Learn about Agate's two trails in American Sign Language. Park Ranger Tera Lynn tells you about our outdoor activities here in the monument. Note: This video is open-captioned and has a voice over.

Duration:

3 minutes, 1 second
Experience a guided tour of the Agate Fossil Beds Visitor Center in American Sign Language. Park Ranger Tera Lynn tells you all about the resources available here at Agate. Note: This video is open-captioned and has a voice over.

Duration:

3 minutes, 10 seconds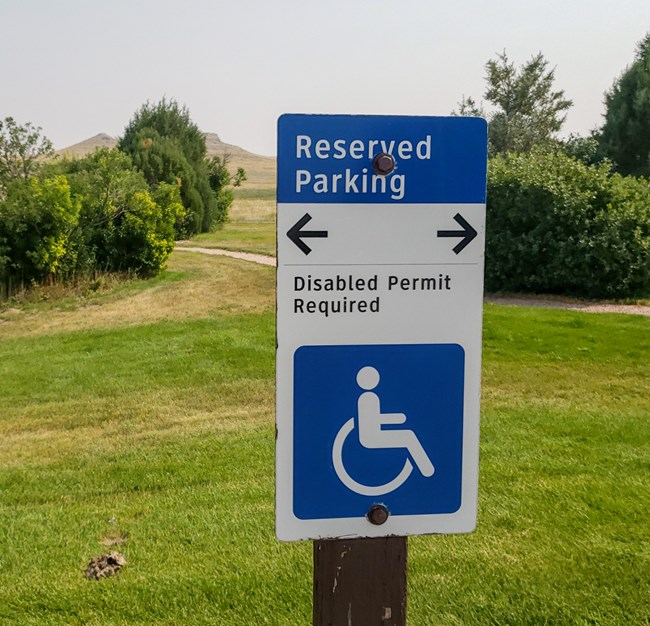 Parking
Visitor Center: Three designated reserved parking spaces in the main parking lot. Each have marked aisles for van access.
Daemonelix Trailhead: One designated reserved parking space.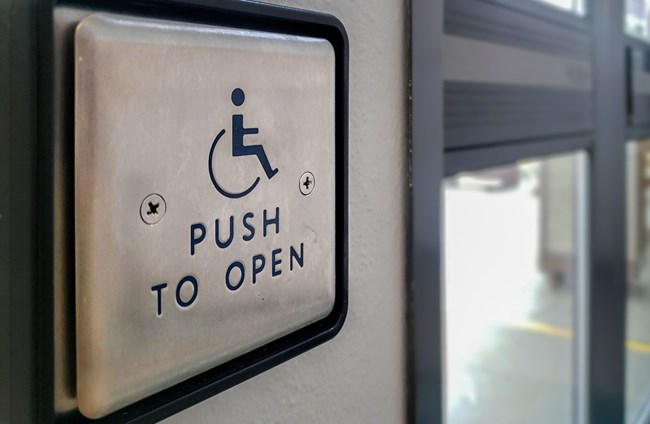 Visitor Center
The path from the parking area to the visitor center is about 100 yards. There are two benches near the entrance doors.

Visitor center main entrance is a double door with a push button powered assist. Doors open out.

Restrooms are to the right in the visitor center lobby after the main entrance with manual pull doors. Both restrooms have baby changing stations.

Park film theater seating is made of movable chairs, with ample space available for wheelchairs and other mobility devices. The park film is open captioned. See the staff at the front desk for an Assisted Listening Device (ALD). The film is not audio described. However, park rangers trained in audio description are happy to assist.

Benches are available throughout the visitor center. They do not have arm rests or backs.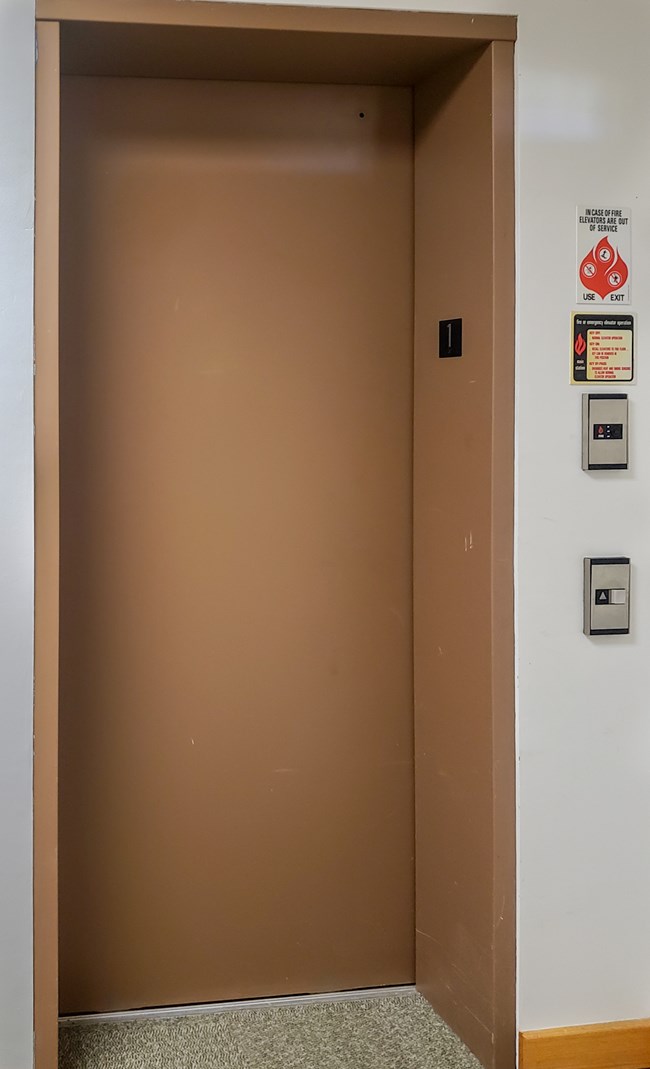 An elevator
is available if you need access to the second floor for special events. There are otherwise no public exhibits or displays upstairs. Our elevator is unique! It's the only elevator in all of Sioux County, Nebraska!
Exhibits
in the main paleontology room have wide aisles and approaches. All text from the exhibits is available in a large print binder available at the front desk.
The visitor center front desk
features a lowered interaction space with a removable front to accomodate wheel chair approach. An UbiDuo device is available to type conversations between visitors and the rangers.
The Cook Collection of Lakota Artifacts
has very low lighting to protect the artifacts. Please ask at the front desk for a flashlight to help illuminate the display signage. The inner room includes a recording of traditional Lakota singing which plays on a constant loop.
Park Brochure
The park brochure is available in various formats: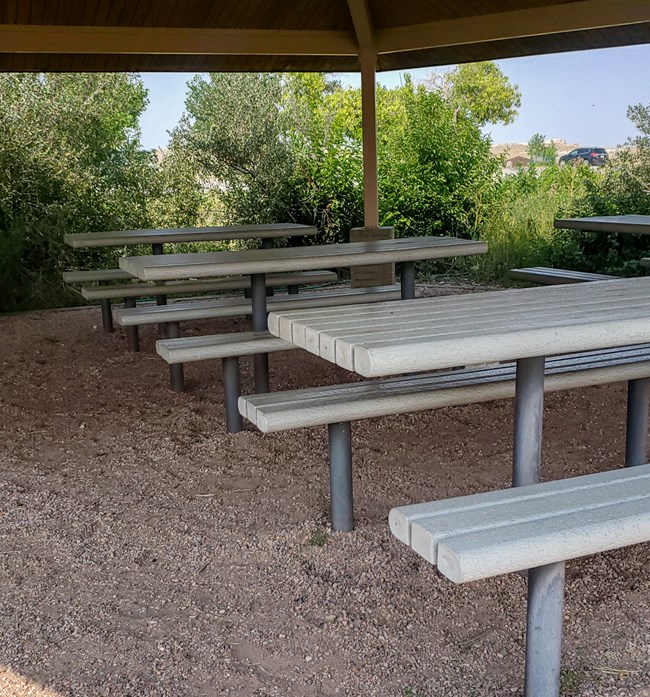 Picnic Tables and Pavilions
Picnic tables are available beneath shade structures south of the visitor center parking lot.

Each has space on one end for individuals using mobility devices.

Picnic tables are also located in the center median of the visitor center parking lot. These do not have offset legs for mobility devices and require a step up to get onto the raised median from the parking surface.
Safety
Water is available from our chilled and filtered water bottle filling station and drinking fountain in the visitor center. A pedestal style drinking filter is located near the picnic structure.

Summers can be hot. There are three covered rest benches along the Fossil Hills trail. Thunderstorms can hit with little to no warning.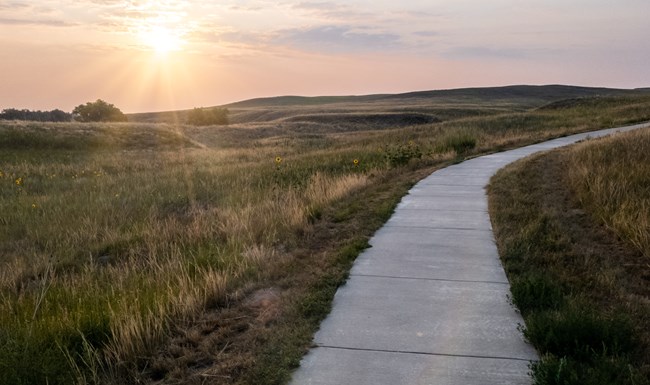 Walkways and Trails
All walkways between the Visitor Center and parking area are concrete sidewalks. Walkways between the tipi area, picnic pavilions and parking area are crushed gravel with encroaching plants.
A wheelchair and a walker
is available to borrow at the visitor center.
An open-captioned interactive hiker video
is available in the visitor center. A paleontologist "hikes" with you up the two trails without leaving the building!
The Fossil Hills Trail
Length: 2.8 miles round trip
Surface material: Mostly concrete. Raised wooden boardwalk with no hand rails over wetlands area, elevated wooden bridge with hand rails over the Niobrara River.
Interpretive waysides can be viewed without blocking the sidewalk.
No access to the Niobrara River.
Daemonelix Trail
Length: 1 mile round trip
Surface material: Crushed and packed gravel. Steps in the 'loop section' beyond the two fossil displays. Both displays can be accessed without traversing the steeper slopes and steps.


Last updated: December 8, 2023