West Side Mountains, Lakes, and Ponds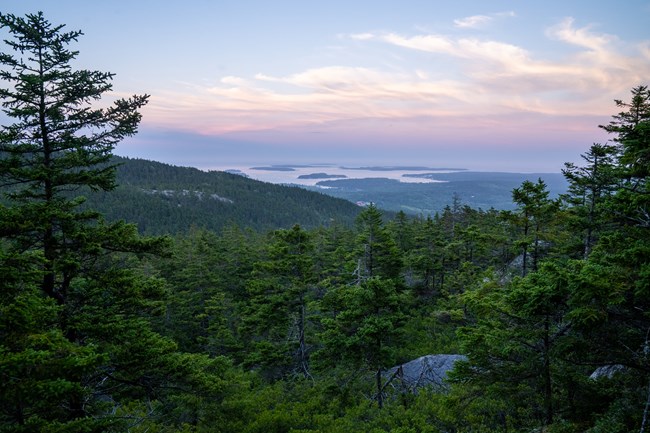 Visit Mountains, Lakes, and Ponds
Just a short drive from the communities of Somesville and Southwest Harbor, visitors can explore various mountains on the west side of Mount Desert Island. Heavily wooded hiking trails through forests, along ridge lines, and up summits offer secluded recreation to Beech Mountain, Acadia Mountain, St. Sauveur Mountain, Valley Peak, and Flying Mountain, as well as Western Mountain (comprised of two major summits, Bernard Mountain and Mansell Mountain).
Long Pond, Echo Lake, Hodgdon Pond, and Seal Cove Pond provide recreational opportunities to experience the park on water. Visitors can bring their own boat or rent from local outfitters, and swimming is allowed at Echo Lake Beach. Check boating information for specific regulations and trip-planning.
Getting Around
All places within Western Mountains are a 25-40 minute drive from Hulls Cove Visitor Center, depending on traffic and time of year. Both private and park roads run through this area. Be aware of speed limit changes and check alerts for road closures due to weather, construction, or delayed openings.
By car: Take Maine Route 102 south through Somesville.

For Beech Mountain, turn right onto Pretty Marsh Road and follow signs.

For Acadia Mountain, Ikes Point, and Echo Lake Beach, continue south on Maine Route 102 towards Southwest Harbor. Look for parking area signs along the road.
For Long Pond and Western Mountain, continue south on Maine Route 102. Turn right onto Seal Cove Road, then right onto Long Pond Road. Parking is located at the end of the road.
For Seal Cove Pond and Western Mountain Roads, continue on Seal Cove Road.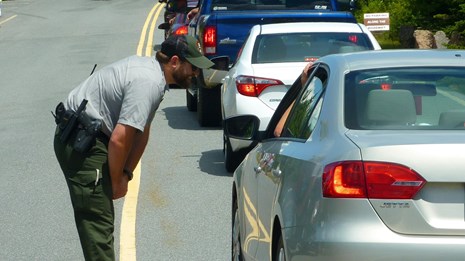 Park Rules & Regulations
Are visitors allowed to harvest mushrooms, or fly a drone in Acadia? Check out highlights of the park's important Rules and Regulations.
Last updated: July 26, 2022