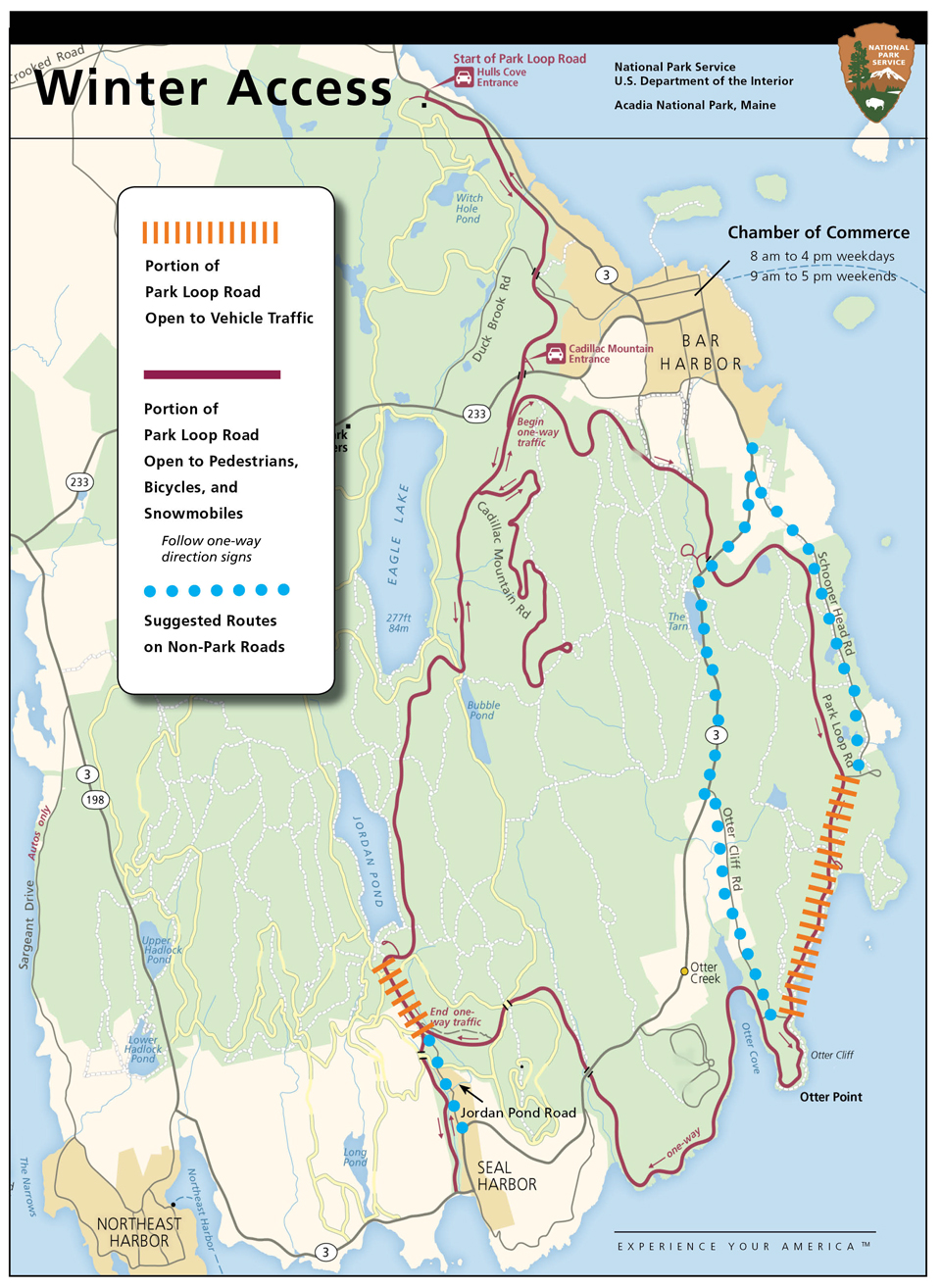 News Release Date:
November 21, 2017
Contact: Christie Anastasia, 207-288-8660
BAR HARBOR, MAINE – The Park Loop Road will be closed to motor vehicles for the season starting on December 1, with the exception of the two-mile section from the Sand Beach entrance station to Otter Cliff Road (accessible via Schooner Head Road in Bar Harbor) and the Jordan Pond area (accessible via Jordan Pond Road in Seal Harbor). Snowmobiles are permitted on the closed sections of the Park Loop Road and on the unplowed lane between the Sand Beach entrance station and Otter Cliff Road. 
The Park Loop Road remains open to pedestrians and bicyclists. Visitors may also enjoy the Park Loop Road on roller skates, rollerblades, skateboards, and roller skis while the road is closed to motor vehicles.
During the winter and spring season information and orientation to Acadia National Park is available at the Bar Harbor Chamber of Commerce Visitor Center. Visitors can talk with park rangers about Acadia National Park and talk with chamber of commerce staff to learn about local businesses, services, and recreational opportunities. The Bar Harbor Chamber of Commerce is located in town on the corner of Cottage and Main Street. Hours are 8 am to 4 pm weekdays, and 9 am to 5 pm weekends. Early closure at noon is expected the day before New Year's on December 31. Full-day holiday closures are set for Dec 24, Dec 25, Dec 26, and Jan 1. For more specific information on the Bar Harbor Chamber of Commerce, please call (207) 288-5103. Please note, the Acadia National Park Headquarters contact station on Eagle Lake Road (Route 233) closed permanently on May 1, 2017 and has no pass sales, information, services, or restrooms.