Honoring George Gilpin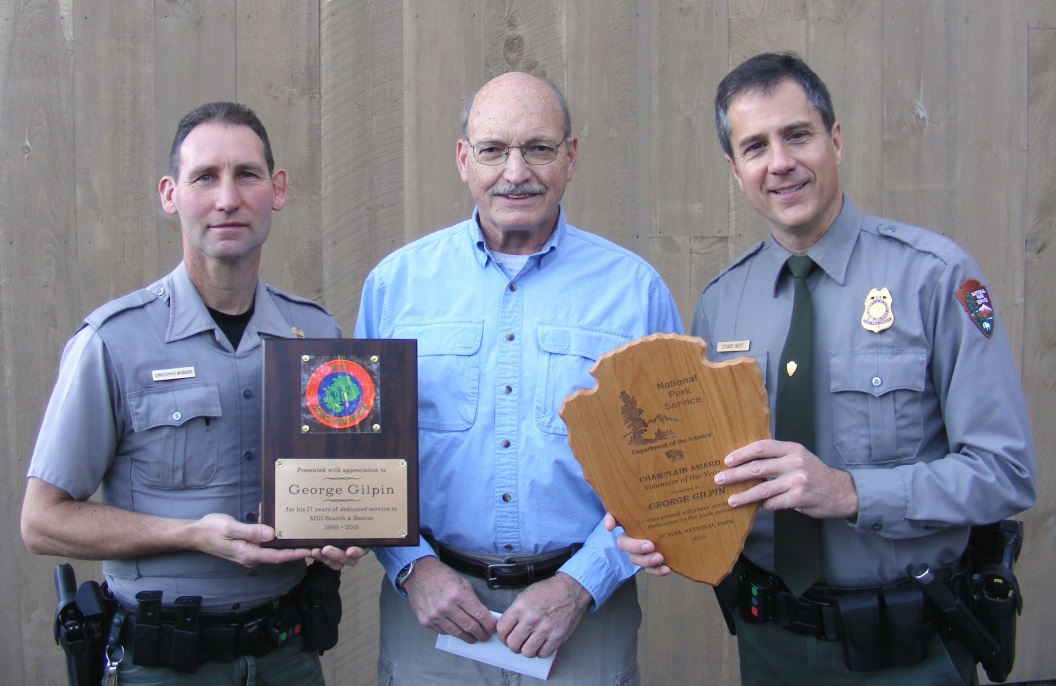 News Release Date:
December 22, 2015
Contact: John Kelly, 207-288-8703
Contact: Davin O'Connell
The National Park Service and Mount Desert Island Search and Rescue (MDISAR) have individually recognized George Gilpin for his 17 years of outstanding volunteer service to the organizations. Mr. Gilpin received the Champlain Award—the highest honor given to park volunteers—from Acadia National Park and an award of appreciation from MDISAR. Acadia and MDISAR have benefited immensely from the tireless effort, dedication, and professionalism that Mr. Gilpin has demonstrated over the years.
Mr. Gilpin has been a member of MDISAR and an active volunteer at Acadia since 1998. Mr. Gilpin's steadfast leadership over that time has helped shape MDISAR into an organization that has become indispensable to Acadia's emergency responses. His leadership has helped to create MDISAR's reputation as one of the top rescue organizations in Maine.
Mr. Gilpin is an expert in technical rescue and land navigation. He was instrumental in implementing and improving mapping software for Acadia, which has allowed the park to respond much quicker to emergencies. In the field, Mr. Gilpin was always a welcomed sight when showing up to a rescue due to his skill set, knowledge of the area, and calm demeanor in emergency situations. "When George arrived on a rescue, you just knew everything was going to be okay," said Will Overton, Supervisory Park Ranger at Acadia.
The Champlain Award, which is given to the "volunteer of the year," is an annual award presented to a park volunteer who furthers the park's mission. The criteria for selecting the recipient include the number of hours donated, length of service, quality of work, results achieved, and cost savings to the park.
MDISAR formed in 1982 as an all-volunteer, nonprofit service organization that provides search and rescue assistance on Mount Desert Island and surrounding communities. MDISAR team members respond to callouts from Acadia, Maine Warden Service, and local police and fire departments. MDISAR conducts ground searches for missing persons, provides emergency wilderness medicine, and performs technical rope rescues under challenging conditions. For more information about MDISAR, please visit www.mdisar.org.
Last updated: December 23, 2015