Carriage Roads in Acadia National Park to be resurfaced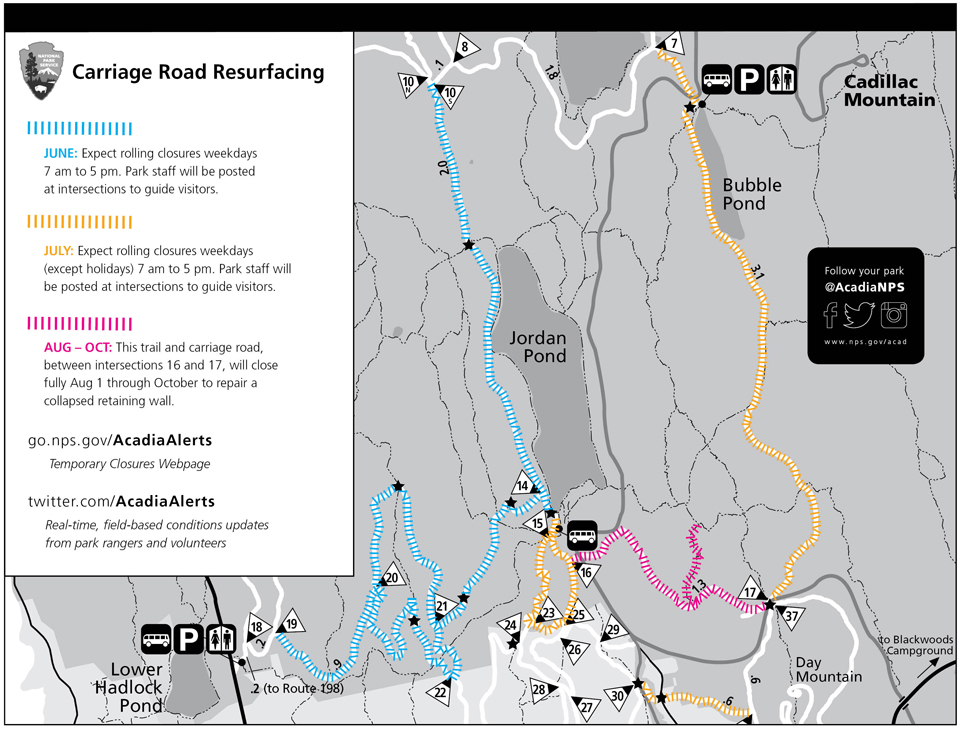 News Release Date:
June 20, 2017
Contact: John Kelly, 207-288-8703
BAR HARBOR, MAINE – The National Park Service will be resurfacing 13 miles of the 45-mile carriage road system in Acadia National Park beginning on Tuesday, June 20. Sections of the carriage roads in the vicinity of Jordan Pond, Wildwood Stables, and Bubble Pond will be closed on a rolling basis during weekdays from 7 am to 5 pm through September to complete the work. The carriage roads will be open at all other times including weekends and federal holidays. Visitors should be aware of equipment and materials that will be stored on the carriage roads, and watch for trucks traveling to and from the work sites along the open sections of carriage roads.
To contend with the region's wet climate, the carriage roads were engineered with stone culverts, wide ditches, three layers of rock, and a six to eight-inch crown to ensure good drainage. Even so, erosion from rain and recreational use requires the carriage road system to be resurfaced every 10 to 15 years. The current cyclic maintenance project will provide a fresh course of gravel to the surface and re-establish the crown profile of the carriage roads. The work is funded in the amount of $400,000 by the National Park Service's cyclic maintenance program and is being completed under contract with Harold MacQuinn, Inc. of Ellsworth, Maine.
"We appreciate the patience and cooperation of park visitors as we complete important cyclic maintenance work on the carriage roads," said Superintendent Kevin Schneider. "The investment of park funding will help ensure the protection of this historic resource and provide for its enjoyment for many years to come."
The 45 miles of carriage roads in Acadia National Park were a gift of philanthropist John D. Rockefeller Jr. and his family. As a skilled horseman, Mr. Rockefeller wanted to travel by horse and carriage on motor-free roads into the heart of Mount Desert Island. His construction efforts from 1913 to 1940 resulted in a system of carriage roads with sweeping vistas and intimate views of the landscape, which continue to be enjoyed by thousands of visitors each year.
To help protect the carriage roads in perpetuity, the National Park Service formed a partnership with Friends of Acadia (FOA) in 1995. Under the partnership, FOA established an endowment, which annually provides about $200,000 to the park for regular maintenance. In addition, FOA coordinates volunteers who contribute thousands of hours to cleaning ditches and culverts, clearing brush, and assisting park staff with other carriage road restoration projects.
A portion of park entrance and campground fees also helps fund carriage road maintenance. These funds have been used to repair stone retaining walls, reopen more than 100 overgrown scenic vistas, and re-point, clean, and waterproof all of carriage road bridges in the park.
For more information on Acadia National Park, please visit www.nps.gov/acad or call 207-288-3338. Join online conversations on Facebook (www.facebook.com/AcadiaNPS), Twitter (twitter.com/AcadiaNPS), and Instagram (www.instagram.com/acadianps).
Last updated: June 20, 2017