Acadia National Park Employees Recognized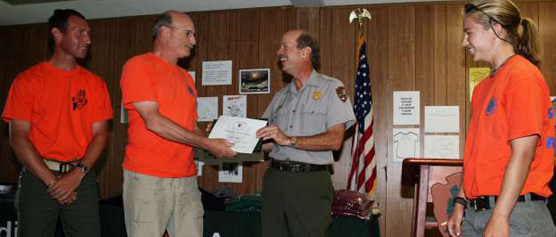 News Release Date:
September 18, 2009
Contact: Wanda Moran, 207-288-8804
Bar Harbor, ME -- On August 18, 2009, several Acadia National Park employees were recognized for their "above and beyond" contributions to the park. All awards are given to employees who show exceptional dedication to and support of the park mission. Also included was a partner award, given this year to the MDI Search and Rescue (SAR) team. MDI SAR has been a steadfast partner of Acadia National Park for 25 years, providing assistance for an average 30 rescues each year. The work is hard, time consuming, and dangerous, but when the park calls for help, they drop what they are doing and respond. It would be hard to find a more dedicated group of men and women.
The George B. Dorr Award for permanent employee of the year went to park engineer Clay Gilley. He has overseen a tremendous volume of projects this year and has made a very significant contribution to the state of park facilities, including the Jordan Pond House bus stop construction and rehabilitation of buildings at the Schoodic Education and Research Center. His work has been accomplished to a high quality and within budget, and because much of the work was accomplished locally, non-construction costs were kept at a level lower than the NPS average. Without his extremely able professional services, the work would not be at such a high level of excellence.
The Ace Savage Award for seasonal employee of the year was awarded to Debra Schrader, protection ranger at the Isle au Haut section of Acadia. She does it all, from shingling roofs and clearing trails to law enforcement and fire duty. When a local home on Isle au Haut caught fire this summer and the town fire engines wouldn't start, Debra took the park fire engine and fire pump to the scene and immediately provided water from a nearby stream to extinguish the blaze. She also manages the park campground at Duck Harbor and supervises two seasonal rangers. Debra is truly the modern version of an old-time ranger, being responsible for every aspect of the operation at Isle au Haut.
The Champlain Award for volunteer of the year was given to Erica Ball, a Student Conservation Association intern who worked in the Resource and Visitor Protection division. Her primary MORE Acadia National Park Employees Recognized Page 2 assignment was to start a Jurisdictional Inventory, which is a compilation of documents and maps detailing legal jurisdiction, including laws and regulations which apply to Acadia National Park, land ownership, and easements, particularly along park boundaries. Erica did extensive research in the park and surrounding communities, which generated many reference maps and documents that will be useful for the whole park, as well as the Resource and Visitor Protection division. She was very dedicated to the project and produced a high-quality product.
In addition to the above awards, individual awards were given to many other dedicated Acadia National Park employees.
--NPS--
Last updated: February 26, 2015