Acadia National Park Plans Prescribed Burn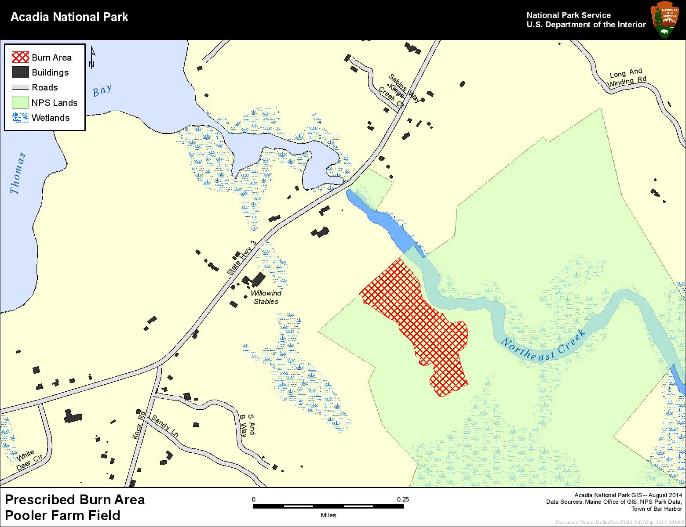 News Release Date:
August 25, 2014
Contact: Fred Mason, 207-288-8783
Acadia National Park Fire Managers are planning to burn 11 acres in the Northeast Creek drainage between now and Nov 1.The ignition of the fire is dependent on the drying of fuels and favorable weather and wind conditions. The burn area is located along the Northeast Creek drainage near the intersection of the creek and Route 3.
Prescribed fires are ignited by fire managers under a pre-determined set of conditions--weather, fuel moisture and resource availability--in order to accomplish specific resource management objectives. Prescribed burns are typically conducted as interagency projects, using local support, under the guidance and direction of trained and experienced interagency fire personnel.This burn will provide valuable training and insight to local fire departments charged with fighting wildland fires.
The Pooler Farm prescribed burn aims to reduce the woody plants that are beginning to colonize the field.The field is a cultural landscape that the park wants to keep it open.The fire will help to promote the grass ecosystem.
Burning the park's open areas offers several ecological advantages over mowing;burning allows for nutrient release for use by plants, burning can treat terrain that a mower cannot reach, and depending upon the season, burning can kill off woody plants that would just sprout again if mowed and left untreated. Overall, the process of burning is lighter on the land then using large tractors to mow.
The plan is for the fire to mimic natural processes.It will be lit in such a way that the fire will move in a backing manner over the field.Smoke from the burn will be visible from town for a short period of time. Weather patterns will be watched and the fire will be lit when the wind is in the direction to push the smoke away from the adjacent homes and highway. The plan is to allow some trees in the middle of the field to burn, imitating the effects of natural fires.
As part of a comprehensive fire plan, the park also has plans to burn the following sites this fall: the Baker Island field nearest the lighthouse, the Jordan Pond vista beside the tea lawn, and two vistas along Paradise Hill Road: the vista north of the Duck Brook Bridge and the overlook just north of the Rt. 233 entrance.
Last updated: February 26, 2015