Acadia National Park Centennial Logo Unveiled
Date:
May 12, 2014
Contact:
Stephanie Clement
Contact:
Aimee Beal Church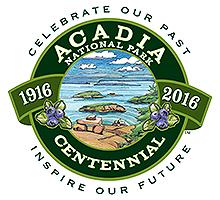 In preparation for the celebration of Acadia National Park's centennial in 2016, Acadia National Park (ANP) and Friends of Acadia (FOA) today unveiled the official Acadia Centennial Logo at a meeting of the Acadia Centennial Partners at the Ellsworth City Hall. The logo, designed by Catherine Breer of Freeport, Maine, was the winner of the nationwide Centennial Logo Contest sponsored by the partner organizations. Her design was selected anonymously by a judging panel of representatives from ANP, FOA, and the Centennial Task Force that has been planning for the 2016 celebration.
In introducing the logo, Acadia Centennial Task Force co-chair Cookie Horner remarked that the logo's goals were to represent the centennial slogan of "Celebrate our past; Inspire our future" and also include an iconic image of Acadia. Featuring a historic Bates Cairn and a distant view from one of Acadia's mountain-summit hiking trails, along with native blueberries that are so closely associated with Acadia and the Maine coast, the logo gives a nod to past, present, and future in a visually eye-catching design.
Winner Catherine Breer wrote of having her design selected: "I have been coming to Acadia since my children were small, always camping at the same campground on Somes Sound. We have hiked the Bubbles, eaten popovers at the Jordan House, listened to the waves crash at Thunder Hole, swum at Echo Lake, and taken in the view from the top of Cadillac Mountain. The natural beauty and diversity of Acadia never ceases to amaze me, and has always been an inspiration to me as an artist. To be part of the preservation of this magical place is both an honor and a privilege."
At the Acadia Centennial Partners meeting in Ellsworth this morning, more than 70 representatives from businesses and organizations heard from active centennial about such topics as business participation in the centennial celebrations, product opportunities, traditional and online marketing for the centennial, plans for arts- and science-themed events celebrating the centennial, examples of events in the planning stages from Schoodic Arts for All and the Seal Cove Auto Museum, and more. The meeting ended with a brainstorming session to generate or develop centennial celebration ideas; the great energy and enthusiasm among the ACPs suggested that Acadia's yearlong centennial celebration will be a memorable event indeed.
Acadia National Park and Friends of Acadia invite organizations and businesses in the Acadia region and nationwide to help celebrate the 2016 centennial of Acadia National Park's founding by becoming an Acadia Centennial Partner. Any organization or business that feels it has or wishes to build its own good relationship with Acadia National Park and commits to develop an event, program, or product to help celebrate Acadia's Centennial can be an Acadia Centennial Partner.
The partners will be at the heart of the centennial—generating and orchestrating a year-long celebration that will celebrate 100-plus years of world-class conservation, inspire and launch the next century of stewardship at Acadia, and model a strong relationship between a national park and its surrounding communities. Each partner will conceive, design, support, and publicize their distinct contribution to the celebration, with organization, planning, and publicity provided by the Acadia Centennial Task Force. More than 40 partners have already signed on, including—in addition to Acadia National Park and Friends of Acadia—the Bar Harbor Chamber of Commerce, College of the Atlantic, the City of Ellsworth, the Gallery at Somes Sound, Jackson Laboratory, Jesup Memorial Library, Northeast Harbor Library, Bass Harbor Library, Southwest Harbor Public Library, Maine Coast Heritage Trust, MDI Biological Laboratory, MDI Historical Society, the Mount Desert Islander, Schoodic Arts for All, the Schoodic Institute, and Seal Cove Auto Museum.
Acadia centennial branding will be in place to help market the events, projects, and products of Acadia Centennial Partners. An Acadia centennial website is in development, which will provide Acadia centennial information, an event calendar, information on licensed products, and links to partner websites. Details for business participation and logo licensing are still being developed and will be available soon.
To get started in becoming an Acadia Centennial Partner, contact either or both of the co-chairs of the Acadia Centennial Task Force: Cookie Horner (207-288-3543 or hpywndr2@gmail.com) and Jack Russell (207-244-5394 or jackrussell101@earthlink.net). Or contact Friends of Acadia Conservation Director Stephanie Clement (207-288-3340 or stephanie@friendsofacadia.org).
About Friends of Acadia
Friends of Acadia is an independent nonprofit organization, founded in 1986. Its mission is to preserve the outstanding natural beauty, ecological vitality and cultural distinctiveness of Acadia National Park and the surrounding communities for the inspiration and enjoyment of current and future generations. Since 1986, FOA has granted $20 million for park and community conservation. The organization has 3,725 members, and makes possible the employment of more than 130 workers directly serving Acadia National Park. For more information, visit
http://www.friendsofacadia.org
.
About Catherine Breer
Catherine Breer is a Maine artist who celebrates the beauty of New England through her art. She grew up in Seoul, Korea and began drawing as soon as she could hold a pencil in her hand. Studying at the Atlanta College of Art and the Museum of Fine Arts School, Boston, she discovered a love of painting. Her work reflects the bright hues, intricate shapes and bold patterns found in traditional Korean art, and embodies her desire to catch glimpses of everyday life as it happens, finding the extraordinary within the ordinary.
Last updated: February 26, 2015