Freshwater Plants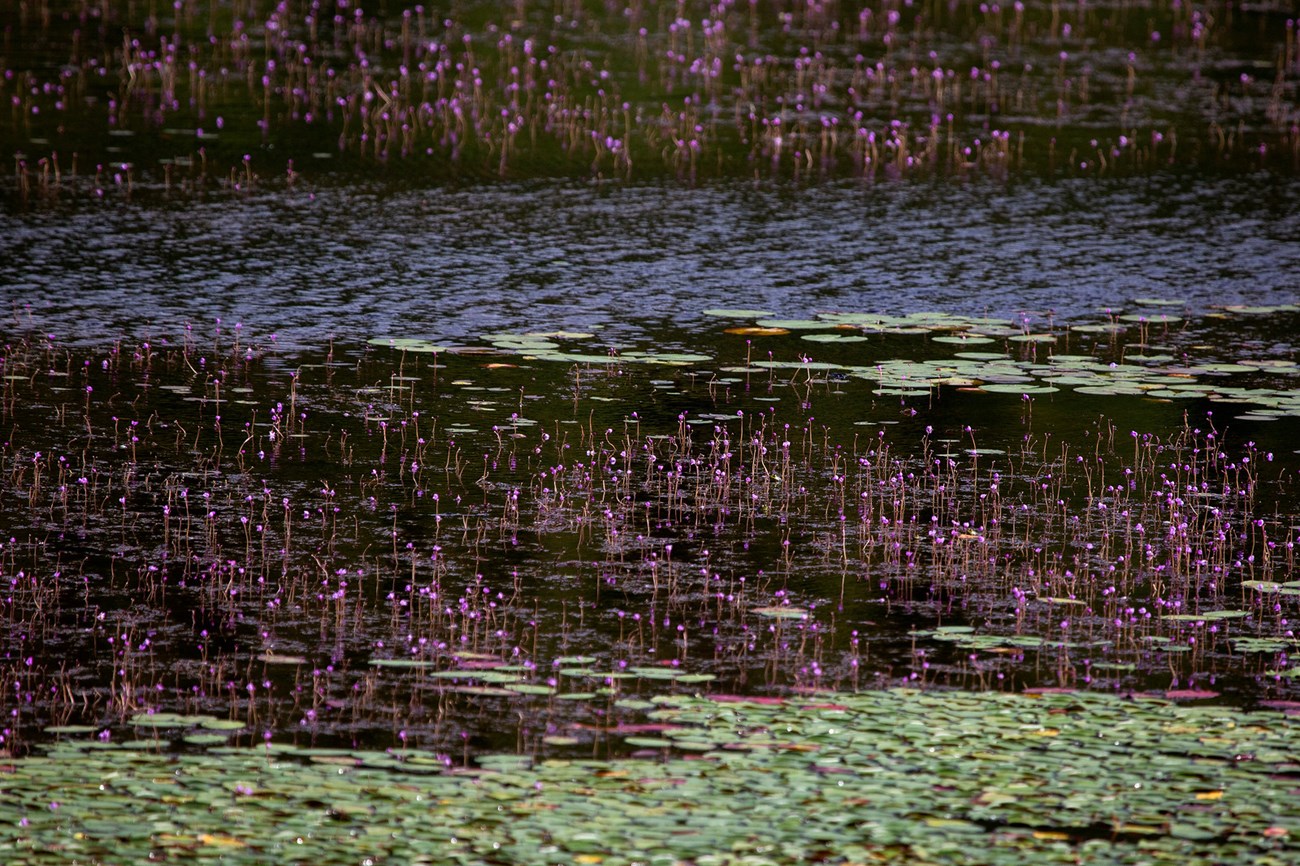 Life abounds in the serene waters of Acadia's lakes, ponds, and streams—from waterfowl to fish, wildlife depends on aquatic vegetation. This freshwater community includes plants that float unattached to the bottom as well as rooted plants, with leaves that may emerge from the water, float on the surface, or be completely submerged. Aquatic plants primarily grow in the littoral zone, a shallow area near a shore where sunlight penetrates.

The lakes and ponds within the park include areas known as open-water marshes. Pondweeds and water- lilies are most abundant and can be found in nearly all of Acadia's freshwater ecosystems. Grass-like rushes and sedges line the shore, and carnivorous bladderworts are found growing roots or floating freely in the water. This plant community supports a diverse list of reptiles, amphibians, birds, and dragonflies.

Several aquatic plants found in Acadia are listed as threatened, endangered, or rare in the state of Maine. Prototype quillwort, Isoetes prototypus, is endemic to the northeast; within the United States, it can only be found in Maine's lakes. An even greater number of species, though not listed by the state, are considered locally rare in the region.

Aquatic plants are sensitive to changes in water quality as well as the impacts of aquatic invasive species. The National Park Service records water quality data, and while there are no aquatic invasive species currently found in the park, Acadia's Vegetation Program monitors their presence.
Common Freshwater Plants
The checklist below contains the park's most common plants within this community. The plant's growth form is indicated by "t" for trees and "s" for shrubs. To identify unfamiliar plants, consult a field guide or visit the Wild Gardens of Acadia at Sieur de Monts Spring, where more than 400 plants are labeled and displayed in their habitats.
All plants within Acadia National Park are protected. Please help protect the park's fragile beauty by leaving plants in the condition that you find them.
| | | |
| --- | --- | --- |
| arrowhead, common | | Sagittaria latifolia |
| bladderwort, horned | | Utricularia cornuta |
| bluejoint, Canada | | Calamagrostis canadensis |
| cat-tail, common | | Typha latifolia |
| lobelia, water | | Lobelia dortmanna |
| pickerelweed | | Pontederia cordata |
| rose, swamp | | Rosa palustris |
| spatterdock or yellow water-lily | | Nuphar variegata |
| St. Johnswort, marsh | | Triadenum virginicum |
| swamp candles | | Lysimachia terrestris |
| turtlehead, white | | Chelone glabra |
| water-lily, fragrant | | Nymphaea odorata |
Last updated: August 4, 2021