Working Waters and Waterfronts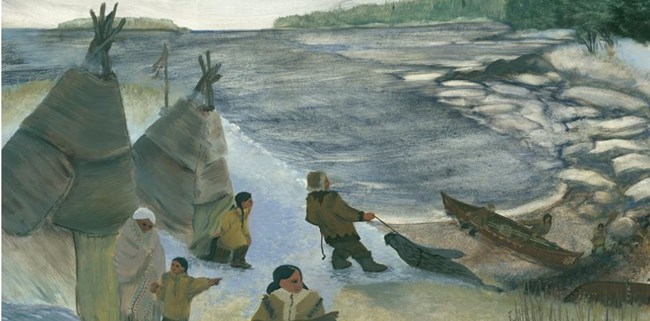 Located on the coast of Maine, life in and around Acadia National Park is inextricably tied to the
sea
and has been for millennia.
Mount Desert Island and the Schoodic Peninsula were a vibrant, self-sustaining community for
Wabanaki
people that drew important resources from the sea for generations. Considering cultural-ecological and comparative historical information, it seems likely that this area minimally included all the coasts and islands in the region from Schoodic Peninsula (Gouldsboro) to Waukeg (Sullivan), Bagaduce River, Deer Isle and probably Isle au Haut. This seacoast domain would have also included a large forested hinterland providing highly mobile families of hunters, fishers and gatherers with more terrestrial game, fresh-water fish and other resources to fully support them on a year-round basis. This comprised the vast woodlands, marshes and lakes drained by the Union and Skillings Rivers and Sullivan Harbor effluence and emptying into the two major saltwater bays embracing Mount Desert Island – Blue Hill Bay and Frenchman Bay respectively. The sea provided an endless supply of meat for food and skins for clothing, as well as countless other tools useful in everyday life and can be found in many
Wabanaki traditions
still in practice today. Motivated by
colonization
, early Europeans arrived to this land by sea and were guided through Maine's treacherous waters by Wabanaki guides.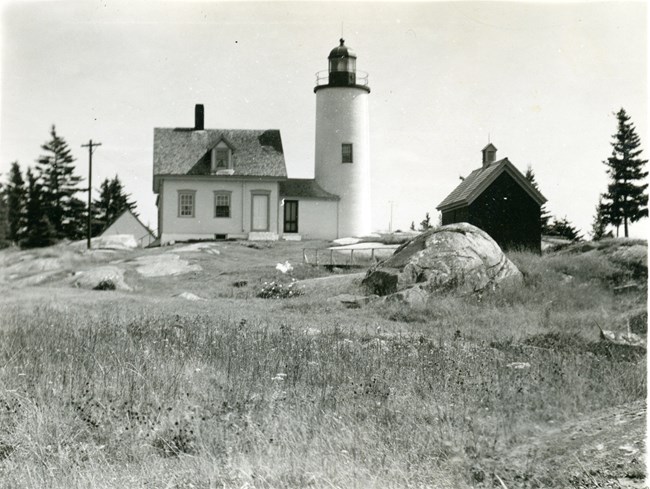 As European immigrants settled across the archipelago, the sea provided their main means of travel. Coastal communities relied first on the sail and later steam to navigate from island to island for essential resources. Across the coast of Maine,
lighthouses
began to guide ships to safe harbor as early as the 1850s. Learning first from Wabanaki guides, European settlers later developed their own ways of lobstering and fishing to sustain their communities in this harsh environment. From
Bass Harbor Head Light Station
to the
Schoodic Penninsula
and
outer islands
, life here is still largely dependent upon the sea.
More about Working Waters & Waterfronts
Last updated: April 12, 2022