Volunteer
Due to COIV-19 all volunteer activites and operations are functioning differently this year. Please contact volunteeracadia@nps.gov for specific information about volunteer opportunities you are interested in.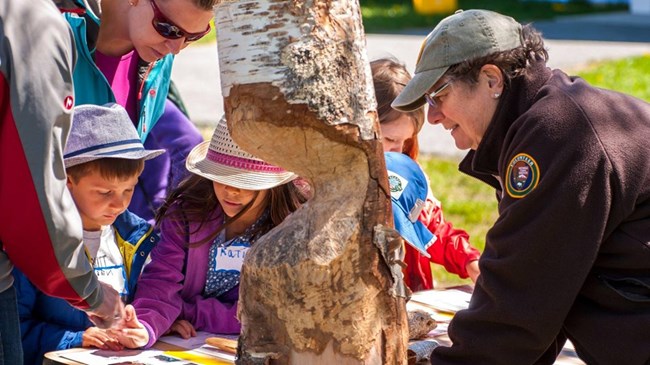 Volunteer Opportunities:
Volunteer News-Check out what volunteers are doing in the park!
Short Term Opportunities
Trails Drop-In Days
Join our Stewardship team cutting back over grown vegetation, clear drainage ditches, build bog walk and much more! All you need to bring is clothes to work in, closed toed-shoes, and a backpack with water and a snack; we provide the rest. Check out the latest schedule to see what projects are coming up next.

When: Tuesday's, Thursday's, and Saturday's, June-September
Time: 8:15 AM - 12:15 PM
Group Service Projects
Do you have a group that is interested in doing a service project here at Acadia? We can offer half-day, full day, or multi-day experiences. Call the Friends of Acadia Stewardship Coordinator at (207)288-3934 or e-mail stewardship@friendsofacadia.org.
National Trails Day
Celebrate National Trails Day at Acadia National Park! Come for light refreshments and an opportunity to participate in trail maintenance or join a guided trail walk. Call Dana Petersen, Friends of Acadia Stewardship Coordinator at (207)288-3934 or e-mail stewardship@friendsofacadia.org for more details.

When: First Saturday in June
Time: 8:15 AM -Noon
Take Pride in Acadia Day
Want to be a part of the largest volunteer event of the year? Register for Take Pride in Acadia Day and help us put the carriage roads to bed. *Due to the pandemic participations is limited this year, registration is required, and no gatherings will take place at park headquarters.

When: First Saturday of November
Time: 8:15 AM - Noon
Season-Long Volunteer Opportunities
Our season-long volunteer opportunities range from campground hosts, education interns, visitor assistance patrol, to bird migration monitoring volunteers. Check the
below listing
or visit
volunteer.gov
to see current openings. Not seeing what you are looking for? Contact the Volunteer Coordinator at (207)288-8716 or
e-mail us
to learn more about position availability.
Youth
Acadia Youth Conservation Corps (AYCC)- This is a full-time, eight week, non-residential trail maintenance program for High School Students ages 15-18. The program runs late June to mid-August, pays minimum wage, and awards participants who complete the eight weeks an education award. Join a team of your peers, learn valueable skills for the future, and help restore and maintain Acadia National Park's beloved trails and carriage roads. This program is offered in partnership with Friends of Acadia. Applications are accepted January - March 30th for the upcoming season.
Artist-In-Residence
The Artist-in-Residence program is dedicated to creating new ways for visitors to experience Acadia through the arts. In exchange for a two-week residency, artists lead one outreach presentation for the public, and donate within one year one work of art that depicts a fresh and innovative new perspective of the park for visitors that's drawn from their own experience.

Selected artists travel to and take part in the program at their own expense at the invitation of the park superintendent. An online application process is open to all, but is highly selective based upon prior professional achievement and broader program goals to foster innovation, diversity, and relevance with new audiences. Three categories of applicants are considered: Visual Artists; Writers; and At-Large Participants working in such forms as music composition, performing arts, indigenous arts, and emerging technologies. Applications are reviewed by appointed juries including park staff, community members, past program participants, and subject matter experts. Learn more.
Current Volunteer Opportunities
Last updated: October 1, 2020