Visiting in Summer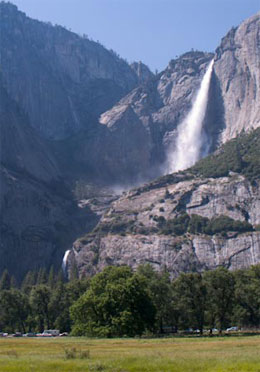 Summer
(June through September)
See lots of the park...and other visitors
Areas to visit: All areas of the park are usually accessible by car by late May or early June, although services along the Tioga Road often open a bit later in June.
Weather: Warm to hot, with occasional rain (usually as afternoon thundershowers, especially at the higher elevations).
Yosemite Valley & Wawona (4,000 ft / 1,200 m): 87°F (31°C) / 51°F (10°C)
Rivers & Waterfalls: Most of the water flowing in Yosemite comes from snowmelt in the high country, so runoff decreases during the dry summer. Peak runoff typically occurs in May or June, with some waterfalls (including Yosemite Falls) having often only a trickle or being completely dry by August. (View a webcam showing Yosemite Falls to see current flow.) Other waterfalls, including Vernal, Nevada, and Bridalveil, run all year; however, their flow can be very low by late summer.
Wildflowers:
Yosemite Valley & Wawona: Most blooming occurs in June, with redbud, Sierra onion, lupine, Mariposa lily, pentstemon, and flowering dogwood beginning in May.
Tuolumne Meadows: The season begins in late summer for subalpine flowers. Beginning around July, look for little elephant's heads, gentian, pentstemon, yarrow, and shooting stars.


Did You Know?
In Yosemite Valley, dropping over 594-foot Nevada Fall and then 317-foot Vernal Fall, the Merced River creates what is known as the "Giant Staircase." Such exemplary stair-step river morphology is characterized by a large variability in river movement and flow, from quiet pools to the dramatic drops of the waterfalls themselves.