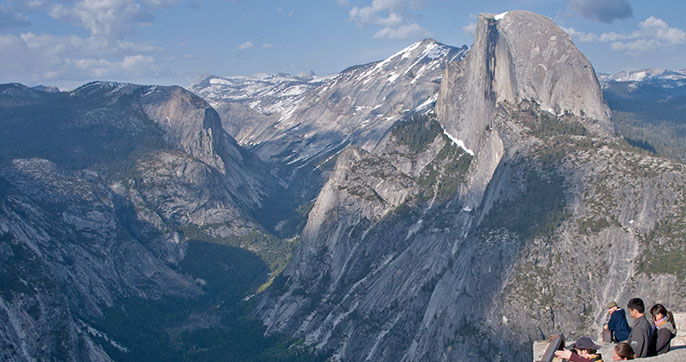 Glacier Point, an overlook with a commanding view of Yosemite Valley, Half Dome, Yosemite Falls, and Yosemite's high country, is accessible by car from approximately late May through October or November. From mid-December through March, cross-country skiers can experience this view after skiing 10.5 miles.
From the Glacier Point parking and tour unloading area, a short, paved, wheelchair-accessible trail takes you to an exhilarating (some might say unnerving) point 3,214 feet above Curry Village, on the floor of Yosemite Valley.
To Get There
Car
The Glacier Point Road is open to cars approximately late May through October or November, depending on conditions. (View a list of opening and closing dates since 1995.)

When open, you can drive to Glacier Point by traveling on the Wawona Road (the continuation of Highway 41 within the park)—either north from Wawona or south from Yosemite Valley. After traveling about 13 miles, turn on to the Glacier Point Road at the Chinquapin intersection. Driving time from Wawona and Yosemite Valley is about an hour.
Bus
The
Glacier Point Tour
generally operates when the Glacier Point Road is open. One-way tickets are available if you're interested in taking the bus to Glacier Point and hiking back to Yosemite Valley. (If hiking to or from Glacier Point, and expecting to take the bus back, be sure you're familiar with the bus schedule.)
Hiking
(summer and fall)
The Four Mile Trail (actually closer to five miles in length) leaves from Yosemite Valley near Swinging Bridge and climbs 3,200 feet to Glacier Point. Allow three to four hours one way or six to eight hours round-trip. The Four Mile Trail is closed due to hazardous conditions from approximately December through mid to late May. The Panorama Trail is nearly twice as long as the Four Mile Trail, but provides a different perspective. If you're looking for a long, strenuous hike, you can combine the Four Mile and Panorama Trails into one hike. (
View information about hiking in Yosemite Valley
.)
Skiing
(winter)
When
Badger Pass ski area
is open (mid to late December through March), the Glacier Point Road is groomed beyond Badger Pass. Cross-country skiers can follow the road for 10.5 miles to Glacier Point. This is possible as a (21-mile) day trip or as an overnight. A
ski hut
is open in winter (reservation required) or you can camp (with a wilderness permit, available from Badger Pass without a reservation). (Read more about
winter camping
and
winter trails along the Glacier Point Road
[530 kb PDF].)
What to Do
Just enjoy the views! Many people especially like watching the changing light on Half Dome as the sun sets. Glacier Point is also an excellent place for stargazing.

Attend a ranger program (see listings in the Yosemite Guide).
Go for a hike from Glacier Point or from another trailhead along the Glacier Point Road. (Please note that trails are snowy and/or wet for about a month after the Glacier Point Road opens.)
Accessibility
One of the trails from the parking and tour unloading area is wheelchair accessible. You can find more information about accessibility in Yosemite's
accessibility guide
[200 kb PDF].