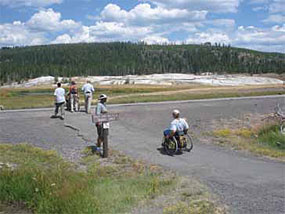 Visitor Information Available Through TDD
People who are hearing impaired may obtain visitor information through TDD 307-344-2386.

These pages are primarily for visitors using wheelchairs or who have other mobility needs. There is general information about wheelchair-accessibility in the park, and some information about audio and visual aids for visitors who need this type of assistance. The table at the bottom of the page has links to each major visitor area with detailed information about wheelchair-accessibility.

Accessibility Coordinator
Many facilities are more than a century old and accessibility is not always ideal. However, we are improving accessibility as quickly as possible within funding limitations. Facilities described as accessible do not necessarily comply fully with federal standards. Some accessible facilities are not marked with the international symbol. Your comments on accessibility are appreciated and should be directed to: Park Accessibility Coordinator; P.O. Box 168; Yellowstone National Park WY 82190-0168.
Access Pass - The Access Pass allows free entrance to federal fee areas and can be shown for some discounts on services. The pass is free for citizens or permanent residents of the U.S. who present
documentation (such as from a licensed physician, the Veteran's
Administration, or a vocational rehabilitation agency) of a
permanent medical disability. The Golden Access Passport
is still valid, but you can trade it in for the new Access Pass.
Obtain the Access Pass at Yellowstone's entrance stations or
http://store.usgs.gov/pass.