Park Visitor Center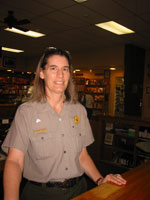 Inside the visitor center, Park Rangers are ready to answer your questions and assist with your orientation to park areas. To help ensure that their visit is safe and enjoyable, large groups or tours should check in with the ranger at the desk when they arrive.
Boy/Girl Scout groups should identify themselves as such to park entrance personnel in order to receive entrance fee waivers. In the Visitor Center please provide both troop number and contact information to the ranger at the desk.
Educational tours (elementary, high school, and university groups) are also granted entrance fee waivers by preparing a letter, on school letterhead, which states the educational purpose of the tour, faxing a copy to the park (601-636-9497, ATTN: Superintendent) prior to the visit, and presenting the letter to the park entrance personnel upon their arrival.
Did You Know?

The Union siege lines and Confederate defensive lines were marked during the first decade of the 20th century by many of the veterans who fought at Vicksburg, thus making Vicksburg National Military Park one of the most accurately marked military parks in the world.