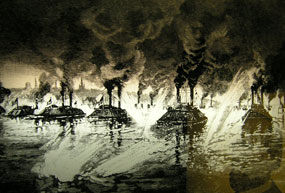 The USS Cairo was one of seven identical city class ironclads. What happened to the other six?
The
USS Cairo
and
USS St. Louis
(renamed the
USS Baron De Kalb
) were sunk by torpedoes on the Yazoo River (
Cairo
in 1862;
Baron De Kalb
in 1863). Only the
Cairo
was salvaged 102 years later.
The
USS Cincinnati
was sunk twice during the war - once at Vicksburg - and raised and re-fitted to survive till the end of the conflict. It was then sold and sank at its moorings on the Cache River in 1866.
The
USS Carondelet
and
USS Mound City
were sold after the war, and broken up for scrap.
The
USS Louisville
and
USS Pittsburg
were sold in 1865, with the Pittsburg being abandoned in 1870.