Vicksburg National Military Park has many engaging events throughout the year. Explore our site to see what we have coming up next.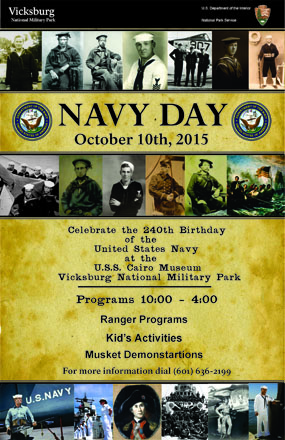 Commemoration of the 240th Anniversary of the founding of the United States Navy.
On Saturday, October 10, 2015, at the U.S.S. Cairo Museum, Vicksburg National Military Park Staff and Volunteers will present programs commemorating the 240th Birthday of the United States Navy and the role of the U.S.S. Cairo.
Ranger Programs begin at 10am and last until 4pm. They will include interpretive programs about the U.S.S. Cairo, kid's activities, musket demonstrations, and a display of Civil War Navy Equipment.
A resolution creating the Continental Navy was passed on October 13, 1775. The infant Navy was composed of just two vessels, with ten cannon each, and a total of 160 men. Authorization for an additional thirteen vessels was given that December. From such humble beginnings the United States Navy has grown into the world's largest with nearly 330,000 active duty personnel, over 270 deployable ships, and over 3700 operational aircraft.
The U.S.S. Cairo, part of the Brown Water Navy, was sunk by a mine in the early stages of the Vicksburg Campaign. The boat and its artifacts in the U.S.S. Cairo Museum serve as a tangible link in the chain connecting the Continental Navy to the current United States Navy. The Brown Water Navy would play a crucial role in the capture of Vicksburg through joint operations with the Union Army of the Tennessee under General Grant.
For further information on this event contact the park
by calling 601-636-0583 or 601-636-2911.