Union Avenue Road Closure - Tuesday, September 16, 2014

Union Avenue will be closed to all activities (walking, biking, jogging, and vehicle tours) between the Memorial Arch and Pemberton Avenue beginning at 6:30 a.m., and remained closed until hazardous tree removal work in the area is completed.
Park Orientation Movie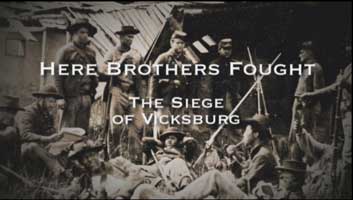 The 20-minute movie presentation entitled,
"Here Brothers Fought,"
runs every 30 minutes in the Visitor Center Auditorium. The film describes the historical events of the Vicksburg campaign, providing visitors with an overview and better understanding of the park's resources prior to their tour.
The first movie begins at 8:05 am, then shows every hour and half-hour, with the final film beginning at 4:30 pm.
Did You Know?

President Abraham Lincoln, in speaking of Vicksburg's importance, is reputed to have stated early during the Civil War, "See what a lot of land these fellows hold, of which Vicksburg is the key, the war can never be brought to a close until that key is in our pocket."