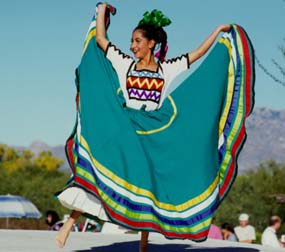 NPS Photo
Tumacácori hosts a number of outstanding events every year.
Guided tours
Cultural demonstrators
Special events
Prefer paper? Download the Calendar of Events (pdf, 1.6Mb) for 2015-2016.
In the neighborhood? Search the Tubac Calendar for special events nearby.
Search the calendar below for a full schedule of events, including special concerts, extended hours, and more.
Upcoming Events
Showing 12 results
  Show ALL instances of recurring events

 RSS Feed
Tumacácori National Historical Park

Sunday, February 14, 2016

Artisans demonstration traditional crafts on the grounds of Mission San José de Tumacácori More

Time:

10:00 AM to 4:00 PM

Fees:

Entrance fee applies

Tumacácori National Historical Park

Sunday, February 14, 2016

Every Sunday Weekly & Every Saturday Weekly from 10/03/2015 to 04/24/2016

Artisans demonstrate traditional crafts on the grounds of Mission San José de Tumacácori. More

Time:

10:00 AM to 4:00 PM

Location:

Tumacácori Mission grounds

Fees:

Entrance fee applies

Tumacácori National Historical Park

Sunday, February 14, 2016

Everyday from 01/01/2016 to 04/30/2016

Join a guide for a journey through the mission grounds More

Time:

11:00 AM to 12:00 PM,2:00 PM to 3:00 PM

Location:

Tumacacori Mission grounds

Fees:

Normal entrance fees apply

Tumacácori National Historical Park

Saturday, February 20, 2016

Explore the natural and cultural history of the Santa Cruz River Valley. One hour, 1/2 mile round-trip walk. No reservations required. More

Time:

9:30 AM to 10:30 AM

Location:

Meet at Visitor Center

Fees:

Park Entrance Fee Applies

Tumacácori National Historical Park

Saturday, February 20, 2016

A series of concerts with cultural connections to Tumacácori will be presented inside the historic mission church. More

Location:

Tumacácori mission church

Fees:

Normal park entrance fees apply

Tumacácori National Historical Park

Saturday, February 20, 2016

Cultural demonstrations on the mission grounds More

Time:

10:00 AM to 4:00 PM

Location:

Tumacácori mission grounds

Fees:

Normal entrance fees apply

Tumacácori National Historical Park

Monday, February 22, 2016

Explore the mission grounds under the light of the full moon. More

Location:

Tumacácori Mission Grounds

Fees:

Entrance fee applies

Tumacácori National Historical Park

Saturday, February 27, 2016

Reservations Required; see information below. More

Location:

Meet at the Tumacácori Visitor Center

Fees:

$25 per person - includes shuttle van and park entrance fee

Tumacácori National Historical Park

Saturday, February 27, 2016

Artisans demonstrate traditional crafts on the grounds of Mission San José de Tumacácori More

Time:

10:00 AM to 4:00 PM

Fees:

Entrance fee applies

Tumacácori National Historical Park

Saturday, March 5, 2016

Artisans demonstrate traditional crafts on the grounds of Mission San José de Tumacácori More

Time:

10:00 AM to 4:00 PM

Fees:

Entrance fees applies

Tumacácori National Historical Park

Saturday, March 12, 2016

Traditional crafts demonstrated on the mission grounds More

Time:

10:00 AM to 4:00 PM

Location:

Tumacácori mission grounds

Fees:

Entrance fees apply