Cultural Demonstrators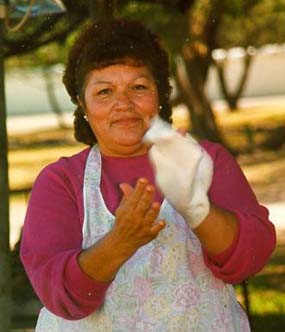 NPS photo by Jerry Ingram
Artisans demonstrate traditional crafts on the grounds of Mission San José de Tumacácori. Demonstrations may include tortilla making, paper flower making, O'odham basket weaving, leather working, or iron working.
October through December: Saturdays & Sundays 10:00 a.m. - 4:00 p.m.
January through April: Wednesdays - Sundays 10:00 a.m. - 4:00 p.m.
Call 520-377-5060 for more information.
Did You Know?
Construction of the Franciscan church at Tumacácori took place from about 1800 through the early 1820s. Due to lack of funds, the plans for the structure not only had to be modified, the building was never finished.