Cultural Demonstrators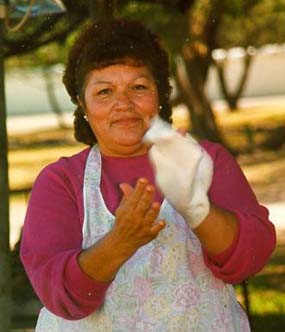 NPS photo by Jerry Ingram
Artisans demonstrate traditional crafts on the grounds of Mission San José de Tumacácori. Demonstrations may include tortilla making, paper flower making, O'odham basket weaving, leather working, or iron working.
October through December: Saturdays & Sundays 10:00 a.m. - 4:00 p.m.
January through April: Wednesdays - Sundays 10:00 a.m. - 4:00 p.m.
Call 520-377-5060 for more information.
Did You Know?

The Santa Cruz River begins in the Patagonia Mountains of southern Arizona, runs south into Mexico, makes a sweeping U-turn and continues north through Sonora, Mexico and Arizona to join the Gila River and eventually the Colorado River which empties into the Gulf of California.