Cultural Demonstrators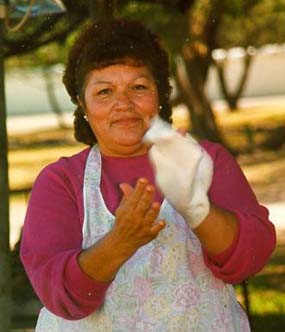 NPS photo by Jerry Ingram
Artisans demonstrate traditional crafts on the grounds of Mission San José de Tumacácori. Demonstrations may include tortilla making, paper flower making, O'odham basket weaving, leather working, or iron working.
November - December
Saturdays & Sundays
January - April
Wednesdays - Sundays
Call 520-398-2341 ext. 0 for more information.
Did You Know?

Father Eusebio Franciso Kino established more than twenty missions among the O'odham Indians of the Pimería Alta between 1687 and 1711.