Special Events
Tumacácori hosts a number of special events during the year -- some with long-standing traditions and some that are brand new. Even returning visitors will find something unique to experience. Be sure to scroll all the way down the page to see the full array of special events for the coming year.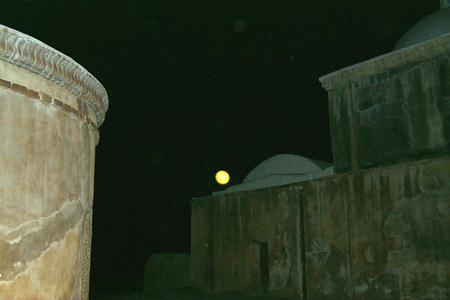 NPS Photo
Full Moon Nights and Starry Saturdays
Full Moon: December 17, 6:00 p.m. - 8:00 p.m.; January 15, 6:00 p.m. - 8:00 p.m.; February 14, 6:30 p.m. - 8:30 p.m.; April 15, 7:30 p.m. - 9:30 p.m.
Starry Saturday: November 23, 6:30 p.m. - 8:30 p.m.; March 29, 7:00 p.m. - 9:00 p.m.; April 26, 7:30 p.m. - 9:30 p.m.
Experience Tumacácori under the light of the full moon or a galaxy of stars. Bring a flashlight and warm layers. Guided programs may be available.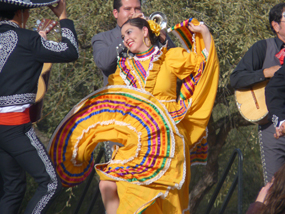 NPS Photo
La Fiesta de Tumacácori
Saturday, December 7, 2013
10:00 a.m. - 5:00 p.m.
And Sunday, December 8
10:00 a.m. - 4:00 p.m.
Free!

Held every year -
First full weekend in December
In recognition and celebration of the many cultures that were historically and are presently associated with the Santa Cruz Valley, the Tumacácori Fiesta presents the traditional creations of these cultures. The fiesta features around fifty food and craft booths, continuous live entertainment on stage, and children's activities each day. On Sunday, the day begins at 10:00 a.m. in front of the Visitor Center with a procession through the Fiesta grounds to the historic church, followed by a traditional Mariachi Mass in front of the church. The mission grounds and park are open throughout the weekend and admission is free.
For more details on vendors, performers, and activities, please visit La Fiesta de Tumacácori.
Please note:
Dogs and other pets are NOT allowed in the park or on the Fiesta grounds during the Fiesta weekend.
The Tumacácori Anza Trailhead is closed to horseback riders during Fiesta.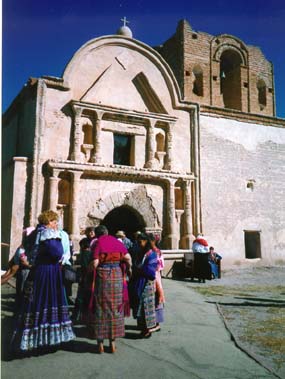 NPS Photo by Jerry Ingram
Anza Day Mass
Saturday, October 19, 2013
10:00 a.m.
Free!
In conjunction with Tubac State Historic Park's
Annual Anza Day Celebration
Once each year a Catholic Mass is celebrated inside the Tumacácori Mission church as it would have been during the time that Tumacácori was an active mission community. Participants are invited, but not required, to wear Spanish style clothing like that which would have been worn around the turn of the 19th century. A reenactment ride to Tubac of Spanish-attired soldiers leaves from the church immediately following the Mass, in commemoration of Juan Bautista de Anza's historic expedition to California in 1775-1776.
Third Annual Festival Kino Celebration at Tumacácori NHP
May 2014
Normal entrance fee applies
In conjunction with the Festival Kino being held in the United States and Mexico, the park will join other sites in celebrating the life and missions of Father Eusebio Francisco Kino. In its third year in Arizona, the Festival Kino has been an annual event in Sonora since 1967. Beginning in Madgalena on the first anniversary of the discovery of Father Kino's remains, the event has grown to include all of northern Sonora, and now includes three sites in southern Arizona.
Stay tuned for more details as we approach the date.
The program for 2013 was as follows:
1:00 p.m. Concert by internationally acclaimed guitarist Francisco Bibriesca. He performed classical music including the music of Europe during the Kino era.
2:00 p.m. Lecture - "Triumph and damage of their holy faith, the missional process in Yaqui," presented by Dr. Padilla Ramos, research professor at the Sonoran INAH Center. Dr. Ramos has published several books about the wars with and deportation of the Yaqui tribe.
The annual Festival Kino took place throughout northern Sonora from May 15 through May 19, 2013. San Xavier Mission's Kino Festival occurred on May 18, 2013, and there were events at Tubac Presidio State Park from May 17 to 19, 2013. For more information on these events, see the Kino Heritage website at padrekino.com and the Sonoran Institute of Culture website at isc.gob.mx/fetivalkino.php.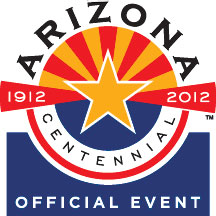 In 2012, Tumacácori National Historical Park was proud to present two of Arizona's Official Centennial Events - the Anza Day Mass that took place in October and La Fiesta de Tumacácori that took place in December.
Did You Know?

Captain Juan Bautista de Anza of Tubac led over 300 people from here to the San Francisco Bay in 1775-76 to establish a Spanish colony and presidio there.