Tumacácori hosts a number of special events during the year -- some with long-standing traditions and some that are brand new. Even returning visitors will find something unique to experience. Be sure to scroll all the way down the page to see the full array of special events for the coming year. Or, download the Calendar of Events (pdf, 1.6Mb) for the 2015-2016 season.
You may also want to consult the Tubac Calendar for a listing of events nearby.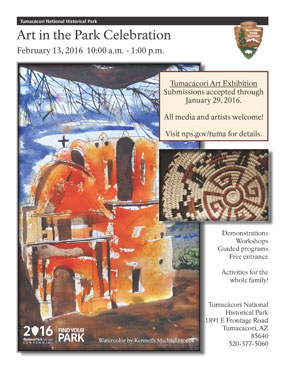 Art in the Park

Saturday, February 13, 2016: 10:00 a.m. - 1:00 p.m.
Come celebrate beautiful Tumacácori with Art in the Park exhibition, demonstrations, workshops, and activities for the whole family. Watch some of our cultural demonstrators hone their craft, practice some of your own, create something new! Or, read on and submit your own work for display during the event.
Call for Entries! Tumacácori National Historical Park will be hosting a selection of works featuring art inspired by the park's many relevant subjects. Got a spectacular image of the church? An abstract of the Santa Cruz River? The only limit is your imagination. Submissions can be made electronically through January 29th, for an exhibition showing at Tumacácori during its first Art in the Park Celebration February 12th through February 14th. All media are welcome (although size limitations do exist). Download the
Call for Entries
, call Melanie at 520-377-5064 or email
e-mail us
.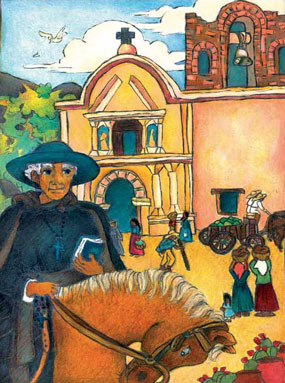 Kino Legacy Day
January 10, 2016: 10:00 a.m. - 2:00 p.m.
Father Eusebio Francisco Kino arrived at the village of Tumacácori in January of 1691 at the invitation of its native villagers. The famed missionary and explorer brought for the first time many aspects of European culture including the Old World's horses, cattle, and other livestock together with its field crops and fruit trees. What Kino left behind is a legacy that can be seen, heard, and tasted to this day.
Tumacácori will celebrate the 325
th
anniversary of Kino's arrival with a day of activities for families, neighbors, and visitors from across the world. The celebration begins at
10:00 a.m.
with Mass commemorated by Bishop Gerald Kicanas in front of the park's historic mission church. From
11:00 a.m. to 2:00 p.m.
, visitors will enjoy a variety of family activities and presentations for every interest. Watch a live exhibit of the Spanish Barb horses, visit "Kino's Petting Zoo," learn to card and spin wool and rope a calf, taste heritage foods, and make your own scientific instruments like the ones Kino used. Many local organizations including the Kino Heritage Society will participate in the anniversary event. All activities and entrance to the park will be free.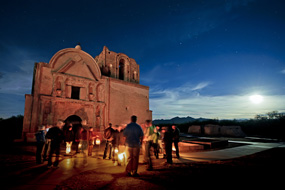 NPS Photo / Anupama Condon
Full Moon Nights and Starry Saturdays
Experience Tumacácori under the light of the full moon or a galaxy of stars. Guided walks by candlelight featuring Father Kino, ghost stories, and other topics begin 30 minutes after the park opens. Call the park or check the Calendar for details on program titles. Bring a flashlight and warm layers.
Full Moon Nights
Tuesday, October 27, 2015: 6:00 p.m. - 8:00 p.m.
Monday, February 22, 2016: 6:00 p.m. - 8:00 p.m.
Wednesday, March 23, 2016: 6:30 p.m. - 8:30 p.m.
Thursday, April 21, 2016: 7:00 p.m. - 9:00 p.m.
Starry Saturdays:
September 12, 2015: 7:00 p.m. - 9:00 p.m.
November 7, 2015: 6:00 p.m. - 8:00 p.m.
December 12, 2015: 6:00 p.m. - 8:00 p.m.
January 16, 2016: 6:00 p.m. - 8:00 p.m.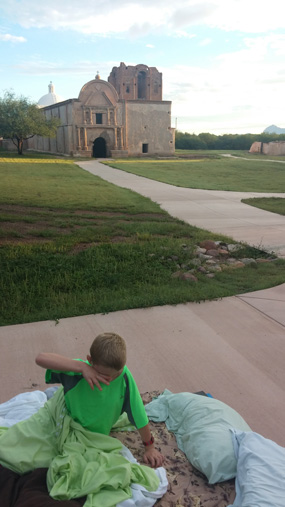 NPS Photo
Family Sleepovers
Saturday, October 24, 2015: 5:00 p.m.
Saturday, March 19, 2016: 5:00 p.m.
Saturday, April 2, 2016: 5:00 p.m.
Participants will join park rangers and demonstrators after normal closing hours to explore what Tumacácori may have felt like for travellers passing this way in the late 1800's. We will eat traditional camp food prepared outside, sketch in journals under the guidance of real artists, sing songs, and explore the mission grounds by candle-light. When it is time to retire for the evening, we will tell ghost stories and then curl up like those historic travellers, sleeping either in the church itself or outside under the stars.
Space is limited to 30 participants so early registration is required. Registration fee includes all food, activities, and any applicable entrance fees the day of the program and the following morning.
$20 per adult (age 16 or older)
$10 per child (under 16)
Many more details including what to bring, where to meet, and how to register at Family Sleepover.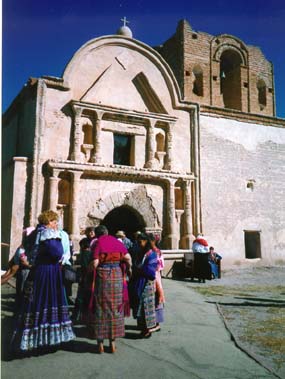 NPS Photo by Jerry Ingram
Anza Day Mass
Saturday, October 17, 2015
10:00 a.m.
Free!
In conjunction with Tubac State Historic Park's
Annual Anza Day Celebration
Reenactment riders in Spanish soldier attire will muster in the Fiesta grounds starting at 9:00 a.m. with the Mass to follow in the church at 10:00 a.m. Once each year a Catholic Mass is celebrated inside the Tumacácori Mission church as it would have been during the time that Tumacácori was an active mission community. Participants are invited, but not required, to wear Spanish style clothing like that which would have been worn around the turn of the 19th century. Additional activities, including games for children and a blessing of the riders take place at the Tubac Presidio later in the day.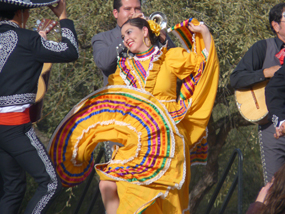 NPS Photo
La Fiesta de Tumacácori
Saturday, December 5, 2015: 10:00 a.m. - 5:00 p.m.
Sunday, December 6, 2015: 10:00 a.m. - 4:00 p.m.
Free!
Held every year -
First full weekend in December
In recognition and celebration of the many cultures that were historically and are presently associated with the Santa Cruz Valley, the Tumacácori Fiesta presents the traditional creations of these cultures. The fiesta features around fifty food and craft booths, continuous live entertainment on stage, and children's activities each day. On Sunday, the day begins at 10:00 a.m. in front of the Visitor Center with a procession through the Fiesta grounds to the historic church, followed by a traditional Mariachi Mass in front of the church. The mission grounds and park are open throughout the weekend and admission is free.
For more details on vendors, performers, and activities, please visit La Fiesta de Tumacácori.
Please note:
Dogs and other pets are NOT allowed in the park or on the Fiesta grounds during the Fiesta weekend.
The Tumacácori Anza Trailhead is closed to horseback riders during Fiesta.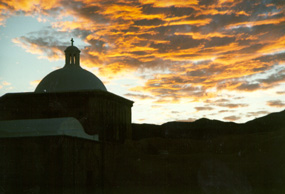 NPS Photo
Sunrise Opening
Thursday, January 14, 2016: 6:30 a.m.
Friday, February 12, 2016: 6:30 a.m.
Wednesday, March 2, 2016: 6:00 a.m.
The park opens its doors early, providing a rare opportunity to witness the light of sunrise over the mission.Once a month during the busy season, the park will open its doors to invite artists and others seeking the magic early morning light over the Tumacácori mission.