Visitor Center is closed

The Visitor Center and bookstore will be closed for several weeks for construction. A temporary Visitor Center will be set up in the parking lot. The trail to the Lower Cliff Dwelling will be open during this period. No entrance fees will be collected.
Plan Your Visit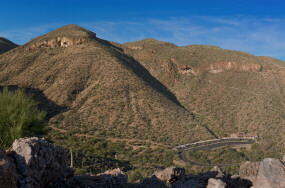 Rex Lavoie
Welcome to the virtual Tonto National Monument! We hope you'll look around and enjoy a desktop tour of this slice of America's heritage.
We hope, too, that you'll choose to visit the real thing. As you can see from the links above, we want you to know how to find us and what to expect when you get here. By National Park Service standards, we are a small park and not very heavily visited. That means you can enjoy a walk through a 700-year-old cliff dwelling amid lovely desert scenery while avoiding crowds most of the year. The view of Roosevelt Lake is breathtaking. March is the busiest month and for good reason – the wildflower display can be spectacular. Even then, however, if you arrive early in the day, you can enjoy solitude.
If you haven't been to Tonto Basin or it's been a long time since you were here last, you'll find excellent new roads either from the Beeline Highway or from Globe. There are several hundred nearly new campsites at nearby Roosevelt Lake. The Basin is ringed by mountains that are themselves dotted by wilderness areas. If you enjoy outdoor recreation, there are many reasons to visit Tonto Basin.
We look forward to seeing you in person at Tonto National Monument.


Did You Know?

Tonto National Monument averages 15" of rain annually. Snow is a rare occurrence, but as long as temperatures remain above freezing, the saguaros don't seem to mind!