Accessibility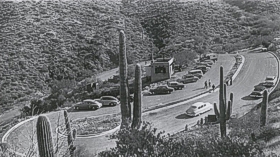 Krear collection
Lower level visitor center with museum and 18-minute video orientation program, sales area, ranger assistance, restrooms, vending machine for soft drinks.
Upper level A/V room with 18-minute video orientation program and viewing platform. Upper level is not handicapped accessible.
Picnic area .5 mile below visitor center; seven covered tables; restrooms. All these facilities are handicapped accessible.
Lower Cliff Dwelling Trail is paved, but quite steep. Upper Cliff Dwelling Trail is unpaved, and requires walking up a creekbed and climbing on rocks to complete the hike.


Did You Know?

Tonto National Monument is home to at least 160 species of birds, 6 species of amphibians, 32 species of reptiles, 26 species of land mammals, and at least 14 species of bats. More...