Accessibility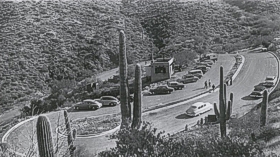 Krear collection
The Visitor Center is handicapped accessible, with a small museum and 18-minute video orientation program, sales area, ranger assistance, restrooms, and a vending machine for soft drinks.
The upper level viewing deck has an 18-minute video orientation program and binoculars. The deck is not handicapped accessible through the visitor center, however, it is possible to get a good view of the Lower Cliff Dwelling from the parking lot.
The amphitheater is handicapped accessible.
A picnic area located .5 mile below the Visitor Center has seven covered tables and restrooms, all of which are handicapped accessible.
The Lower Cliff Dwelling Trail is paved, and has benches, but it is quite steep. Accessing the dwelling requires climbing some steps and walking on loose sand.
The Upper Cliff Dwelling Trail is unpaved and considered moderately strenuous. It requires walking up a creekbed and climbing on rocks and uneven stone steps to complete the hike.