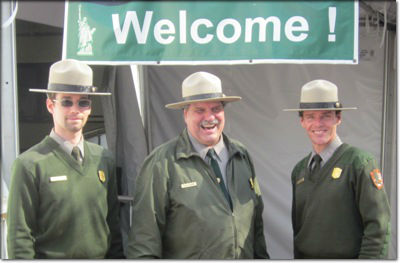 SECURITY INSPECTIONS
The National Park Service values your safety above all. To protect you and the park, visitors and their belongings are subject to a security screening before boarding the ferry to the park. There is a second security screening located at the entrance to the monument for those holding advanced crown or pedestal reservations.
The National Park Service appreciates your patience and understanding of these procedures and the additional time that may be required.
PRIMARY SECURITY SCREENING
Located at ferry departure point
SECONDARY SECURITY SCREENING
Located on Liberty Island
A primary security screening, similar to airport security procedures, is required for those boarding any Statue Cruises ferry to Liberty Island or Ellis Island, and must be completed at the point of departure before boarding.

For boarding locations, refer to our directions page.

It is recommended that you include ample time and maintain a flexible schedule to include boarding the ferry and security screening. Wait times can be several hours, particularly during peak seasons, including summer, weekends, and holidays.

There are no locker storage areas at the screening facilities in either Battery Park or Liberty State Park.

PROHIBITED ITEMS ON OUR FERRIES

Do not carry any of the items mentioned below into the security screening area. Items that are surrendered will not be returned. If you are unsure about an item, please do not bring it. Prohibited items include:

ALL weapons, including: firearms, any dangerous items, any "dual-use" items that could be dangerous. All of these items are strictly prohibited in the park and on the ferry system.
Scissors, sharp instruments and tools are also prohibited.
LARGE packages, suitcases, carry-on luggage and other large parcels will not be permitted on the ferry systems or at Liberty and Ellis Islands.
Face masks and/or costumes which are designed to conceal the identity of a person are prohibited.

Please remember to keep bags, packages, strollers, etc. with you at all times. Do not leave any items unattended at any time.
A secondary security screening, similar to airport security procedures, is required for those entering the monument with Crown or Pedestal reservations and must be completed at the monument's entrance before visiting any area on or inside of the Statue of Liberty.

There are locker facilities at the entrance to the monument. Lockers can be rented for 2 hour blocks and cost $2 each. Locker rentals use dollar bills. There is a cashier and an ATM on-site.



THE LIST OF PROHIBITED ITEMS DIFFERS BASED ON THE RESERVATION


PROHIBITED ITEMS INSIDE THE PEDESTAL
Those with reservations to the pedestal, the stone base that the Statue of Liberty sits on top of, must secure the following items in a locker:

Most commonly carried items that must be secured:
ALL FOOD, DRINKS, AND BACKPACKS. Tripods, laptops, non-folding umbrellas, over-sized bags, strollers, pocket knives.

Learn more information about Visiting the Pedestal.

PROHIBITED ITEMS INSIDE THE CROWN
Those with reservations to the crown of the Statue of Liberty are only permitted to carry with them one (1) camera per person and any necessary medication.

The following common (but not limited to) items must be secured in a locker: keys, pocket knives, writing instruments, purses, camera bags, camera cases, backpacks, shopping bags, food, drinks, any item that may impede progress on the staircase.

Learn more information about Visiting the Crown.



HAVE A QUESTION?
If you have any questions regarding security procedures, please contact the park.
Thank you for your cooperation. Safety is everyone's responsibility.
If you SEE something, SAY something to a U.S. Park Police Officer or National Park Ranger.