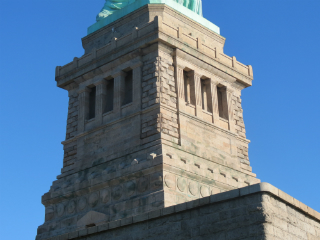 NPS Photo
PLANNING YOUR VISIT TO THE PEDESTAL
Visiting the pedestal is a great addition to any trip to the Statue of Liberty. Starting in 2004, the National Park Service implemented a new system that requires reservations to access the pedestal. This reservation system is much different than how the public accessed the pedestal prior to 2001. The procedure for reserving pedestal tickets and accessing the pedestal is detailed below.
RESERVE YOUR PEDESTAL TICKETS
Due to its popularity, access to the pedestal is limited and requires reservations.
Statue Cruises
is the official source for pedestal reservations as well as the company that provides ferry transportation to the island. Advanced reservations may be made online or by telephone.
Extremely limited pedestal reservations may be available at the ticket offices early in the morning.
Pedestal reservations are not available on Liberty Island.
PICKING UP YOUR PEDESTAL RESERVATIONS
Pedestal tickets can be printed out at home or picked up at the ticket office Will Call window at either Liberty State Park or Battery Park (click here for Directions to those sites) by the ticket purchaser. To pick up the tickets, the purchaser must show photo ID and the same credit card used to reserve the tickets.

Pedestal tickets are for a specific date and time. The ticket will have the time to enter the embarkation site security facility printed on the face.
For security screening information and accessibility information, visit Basic Information.

After visiting the pedestal, enjoy the many Things To Do while visiting the island.
ARRIVING ON LIBERTY ISLAND
The entrance to the pedestal is located directly behind the Statue of Liberty in the white tent. Those with pedestal reservations must first show their tickets to the park rangers at the entrance. All visitors (except for children younger than four years old) must show valid pedestal tickets. The National Park Service appreciates your cooperation during this process.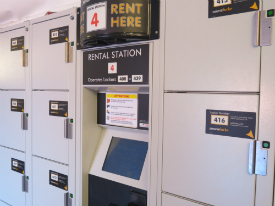 NPS Photo
YOU MAY NEED A LOCKER
Certain items are not permitted inside the pedestal, including: FOOD, DRINKS, AND BACKPACKS (INCLUDING CAMERA BAGS THAT ARE WORN ON THE BACK AND HAVE EITHER ONE OR TWO STRAPS) OF ANY TYPE.

The following items are also prohibited:
Laptop computers
Strollers
Long umbrellas
Tripods
Please see a National Park Service Ranger on-site if you have any specific questions or contact us in advance.
Locker Rental Information: Lockers are available at the crown/pedestal check-in tent. An attendant is available to make change for large bills. Only bills are accepted (no credit card).
Rental Cost:
$2
Rental Time:
2 hours
Locker Size:

13 in. x 9 in. x 12 in.
(33 cm. x 23 cm. x 30 cm.)
WHAT TO EXPECT
Visitors may walk or take an elevator (part of the way) to the top of the pedestal. Although there are short staircases before and after the main elevator, visitors with disabilities should refer to our Accessibility page for more information.

The total number of steps from the lobby to the top of the pedestal is 215.