A wide range of activities in diverse settings awaits you at these parks. Whether you prefer an short stroll or a week in the wilderness, a quiet sunset or a roaring river, adventure awaits you here.
Whatever activities you choose, come prepared. Weather varies widely at different elevations, and storms can happen at any time of year. Read safety information before you visit.
Day Hiking
Get out and explore! Hundreds of miles of trails offer opportunities to wander through sequoia groves, look deep into wilderness, or experience wildlife. Choose trails from easy to strenuous, including paved trails good for wheelchairs and strollers.
Overnight Wilderness Trips
The designated wilderness in these parks offers a chance to immerse yourself in the natural world. Plan your trip today!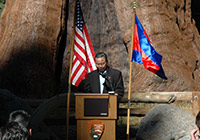 Special Events
Upcoming events include our Dark Sky Festival and a celebration of the anniversaries of Sequoia & Kings Canyon National Parks!
Ranger-led Programs
Interested in learning more about the parks? Join a ranger for a free walk, talk, or evening program. Our partner, the Sequoia Parks Conservancy, offers interpretive programs, too.
Visitor Centers & Museums
Stop by our visitor centers to browse exhibits, get help with trip-planning at the information desk, or browse park bookstores.
Drives & Viewpoints
The Generals Highway and the Kings Canyon Scenic Byway pass through an impressive range of elevations. Stop at overlooks to see roadside exhibits along the highway and learn more about these parks.
Cave Tours
Explore the underground world of Sequoia! A Crystal Cave tour takes you deep into a marble cave with stalactites, curtains, and other formations. Purchase tickets at Lodgepole or Foothills visitor centers before traveling to the cave. Bring a jacket! Offered from spring to fall.
Snowplay
When snow falls, bring your kids to one of our three snowplay areas, but be safe! Snowplay injuries are common in these parks.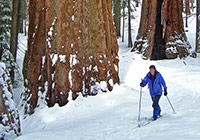 Skiing & Snowshoeing
During snowy winters, explore our ski and snowshoe trails. Bring your own equipment or rent it at park lodges.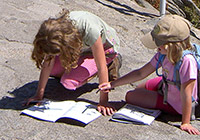 Junior Ranger Program
Kids of all ages (and even adults) can earn a badge by completing activities in our junior ranger book! Ask for a free activity book at any visitor center.
Picnicking
Look for picnic areas throughout the parks. Protect bears and other wildlife by storing food safely.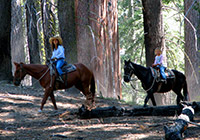 Horseback Riding
Whether you bring your own horses or use one of the pack stations in these parks, a trip on horseback is a great way to see the parks.
Rivers
The rivers in these parks are powerful and cold, and drowning is the most frequent cause of death here. Learn more about river safety.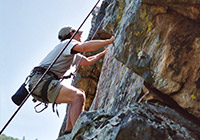 Rock Climbing
Granite cliffs and domes provide excellent opportunities for climbing in these parks. Climb on!