NPS Photo
Ranger-guided nature programs on snowshoes
Snowshoe walks are usually offered at Wuksachi Lodge on Saturdays and holidays when conditions permit. The park provides snowshoes free for the two-hour, one-mile walk. Group size is limited, so reserve your place at any visitor center or by calling the Giant Forest Museum at 559-565-4480 for the Wuksachi walk.
*** All snowshoe walks are tentative, and may be cancelled due to insufficient snow or other events. A decision will be made by 9 a.m. each morning if a program will be cancelled.
Note: snowshoeing may be strenuous and difficult for small children.
For all scheduled programs visit: Ranger-led Programs
Cross-country skiing
If there is sufficient snow, many areas of the park may be accessed by skis. Cross-country skis are available for rent at the Wuksachi Lodge and the Grant Grove Gift Shop. Please avoid residential areas, plowed roads, and other areas as signed.
Pear Lake Ski Hut
The Pear Lake Ski Hut, in Sequoia National Park, is open for use by the general public mid-December through April. It is located 3/8 of a mile north of Pear Lake at 9,200 feet (2804 meters) and is reached by ascending a steep six miles of trail from Wolverton Meadow (7,200 feet). This advanced level ski/snowshoe trail offers a chance to explore the beautiful wilderness of the Sierra Nevada mountains in winter. The hut sleeps 10 people and is heated by a wood pellet stove (pellets provided). Fee is $38-$42 per night, per person. more...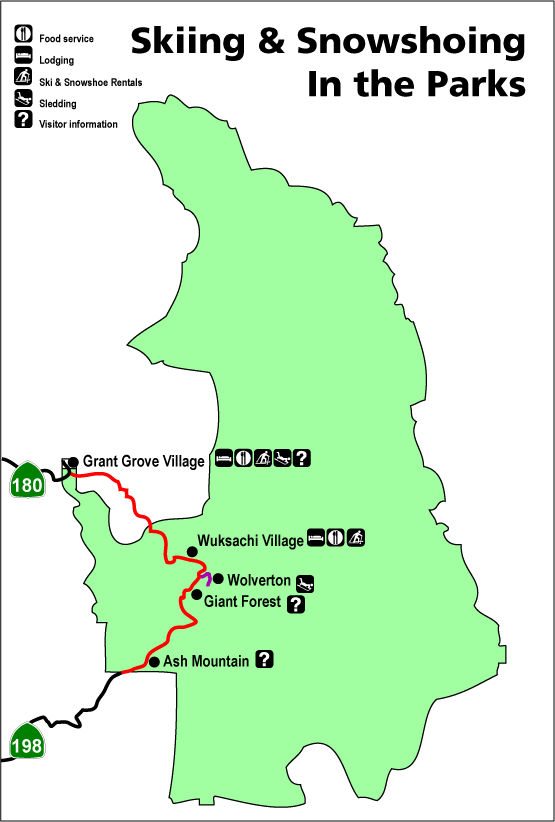 NPS Graphic