Be Prepared! Tire Chains or Cables May Be Required in the Parks at Any Time

All vehicles must carry chains or cables when entering a chain-restricted area. It's the law (CA Vehicle Code, Section 605, Sections 27450-27503). Road conditions may change often. For road conditions, call 559-565-3341 (press 1, 1). More »
Vehicle Length Limits in Sequoia National Park (if Entering/Exiting Hwy 198)

Planning to see the "Big Trees" in Sequoia National Park? If you enter/exit via Hwy. 198, please pay close attention to vehicle length advisories for your safety and the safety of others. More »
Ranger-led Programs
Please read important park alerts by clicking the red tab above before you come to the parks.

Some of the opening/closing dates for facilities and visitor services in the parks may change due to weather and/or other circumstances. Please call 559-565-3341 BEFORE you plan to visit.
Program schedules and types vary with the season and park region. We offer the widest variety and number of ranger-led programs from late June through August. When you arrive, check visitor centers and bulletin boards in each area for program details or schedule changes.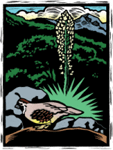 Foothills, Sequoia National Park
Current Foothills Program Schedule for:

Regular, weekly programs have been discontinued until spring/summer 2014.
The foothills area offers ranger-led programs year-round, although programs may
be limited in fall and winter. In late spring and summer a variety of programs are offered,including an investigation station and patio talks at the Foothills Visitor Center, ranger talks at Hospital Rock, and various ranger-led walks. Potwisha Campground evening programs are given on weekends and occasionally on weekdays in spring
and summer. For more information, call 559-565-4212 or check this webpage for
future updates.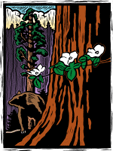 Giant Forest and Lodgepole, Sequoia National Park
Current Giant Forest and Lodgepole Program Schedule for:
December 2-9, 2013 (PDF; JPEG)
The Giant Forest and Lodgeple areas offer a variety of ranger-led programs year-round. In winter (January-March), rangers lead snowshoe walks during most weekends, snow-permitting. Reservations are required for snowshoe programs - 559-565-4436. Spring (March-May) and fall (September-October), ranger-led programs are less frequent and generally occur from Fridays-Sundays. Programs occur throughout the day every day from late-May through August, with the highest frequency and variety in July and August.
Grant Grove, Kings Canyon National Park
Current Grant Grove Program Schedule for:
Nov. 25 - December 9, 2013 (PDF, JPEG)
Grant Grove offers a variety of ranger programs including winter snowshoe walks and Giant Sequoia tree walks and talks. Daily programs occur throughout the day from early June through mid-August, with the highest frequency and variety in July and August. Summer programs include a daily Grant Tree walk, campfire programs and various ranger talks. Programs in the early spring and fall months are less frequent and occur most often on weekends or Thursday through Sunday. Winter programs (January through April) generally occur on the weekends and include ranger talks in the John Muir Lodge and snowshoe walks.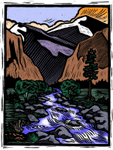 Cedar Grove, Kings Canyon National Park
Current Cedar Grove Program Schedule for:
Programs are discontinued until summer 2014.
Cedar Grove offers a variety of ranger programs in the summer months - from June through September. From late May through early June, programs are often limited to Thursdays through Sundays. Ranger programs throughout the summer months include walks of Zumwalt Meadow, campfire programs, evening programs in the amphitheater, and occasional night sky talks. Visitors will generally find daily programs available in July and August. September programs usually occur from Fridays through Saturdays.
Did You Know?

The 16 steep, narrow road miles from Ash Mountain to Giant Forest include 130 curves and 12 switchbacks. A vehicle-length advisory of 22 feet (6.7 m) is suggested for the 12 steepest miles within that stretch.