Ranger-led Programs
Please read important park alerts by clicking the red tab above before you come to the parks.

Some of the opening/closing dates for facilities and visitor services in the parks may change due to weather and/or other circumstances. Please call
559-565-3341 BEFORE you plan to visit.
Program schedules and types vary with the season and park region. We offer the widest variety and number of ranger-led programs from late June through August. When you arrive, check visitor centers and bulletin boards in each area for program details or schedule changes.
Programs are offered by both the National Park Service and the Sequoia Natural History Association.
Click on the "View Park Map" at the bottom of the main menu (inside the white box labeled "Park Tools") for specific locations. There is about a one-hour drive between each of the following areas: The Foothills, Giant Forest/Lodgepole, Grant Grove, and Cedar Grove. Mineral King is about a 1-1/2 hour drive from the turnoff at Hwy 198.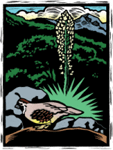 In Sequoia National Park -
Foothills
Programs are discontinued until spring/summer 2015.

The foothills area offers ranger-led programs year-round, although programs may
be limited in fall and winter. In late spring and summer a variety of programs are offered,including an investigation station and patio talks at the Foothills Visitor Center, ranger talks at Hospital Rock, and various ranger-led walks. Potwisha Campground evening programs are given on weekends and occasionally on weekdays in spring and summer. For more information, call 559-565-4212 or check this webpage for future updates.
Mineral King
Programs are discontinued until spring/summer 2015.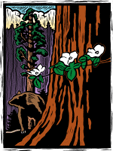 Giant Forest and Lodgepole

No Giant Forest and Lodgepole Ranger-led Programs are scheduled for October or early November.
The Giant Forest and Lodgepole areas offer a variety of ranger-led programs year-round. In winter (January-March), rangers lead snowshoe walks during most weekends, snow-permitting. Reservations are required for snowshoe programs--call the Giant Forest Museum at 559-565-4480 to reserve a spot. Spring (March-May) and fall (September-October), ranger-led programs are less frequent and generally occur from Fridays-Sundays. Programs occur throughout the day every day from late-May through August, with the highest frequency and variety in July and August.
In Kings Canyon National Park -
Grant Grove
Current Grant Grove Ranger-led Programs Schedule for:
November 17 - December 1, 2014 (PDF, JPEG)

Grant Grove offers a variety of ranger programs including winter snowshoe walks and Giant Sequoia tree walks and talks. Daily programs occur throughout the day from early June through mid-August, with the highest frequency and variety in July and August. Summer programs include a daily Grant Tree walk, campfire programs and various ranger talks. Programs in the early spring and fall months are less frequent and occur most often on weekends or Thursday through Sunday. Winter programs (January through April) generally occur on the weekends and include ranger talks in the John Muir Lodge.

December 14, 2014 - 89th Trek to the Nation's Christmas Tree Ceremony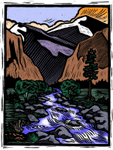 Cedar Grove
Programs are discontinued until spring/summer 2015.
Cedar Grove offers a variety of ranger programs in the summer months - from June through September. From late May through early June, programs are often limited to Thursdays through Sundays. Ranger programs throughout the summer months include walks of Zumwalt Meadow, campfire programs, evening programs in the amphitheater, and occasional night sky talks. Visitors will generally find daily programs available in July and August. September programs usually occur from Fridays through Saturdays.
Naturalist-led Programs by the
Sequoia Natural History Association

Wuksachi Lodge - Lodgepole, Sequoia National Park
Current programs offered by the Sequoia Natural History Association:
John Muir Lodge - Grant Grove, Kings Canyon National Park
Current programs offered by the Sequoia Natural History Association:
To see the complete listing of all our programs, visit our website at:
Sequoia Natural History Association Calendar