Invasive Non-Native Plants
Non-native plant species are those that are introduced to an area by humans either intentionally or unintentionally. These plants are also known as alien, exotic, introduced, and non-indigenous. They are an enormous concern for the National Park Service; recent information indicates that non-native plants are infesting 4600 new acres of federal land each day.
Nearly one in eight plant species in Sequoia and Kings Canyon National Parks is non-native. Many of these species appear to have a fairly small impact on the parks, but many others are drastically changing ecosystem structure and processes.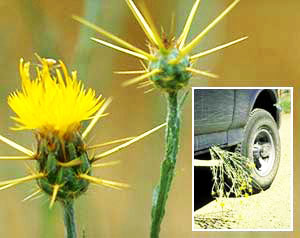 Photo by Jo-Ann Ordano, © California Academy of Sciences; inset photo by Jerry Asher, Bureau of Land Management
Non-native species reduce biodiversity, jeopardize endangered plants and animals and degrade habitats. Some species, such as giant reed, can completely dominate vast areas of land, excluding virtually all vegetation and dramatically altering water and fire cycles. Non-natives are also known to hybridize with native species, altering native genetic diversity and integrity.
Sequoia and Kings Canyon National Parks have a well-researched non-native plant management plan in place. Early efforts have already eradicated at least one highly invasive non-native plant species (yellow star thistle), and have identified several other infestations that are yet in their very early stages. The year 2002 marked a major increase in eradication efforts, with numerous non-native plants removed from the parks by the end of the year. These efforts continue and we look forward to healthy, less-impacted ecosystems in the years ahead.