Sequoia and Kings Canyon National Parks' 863,741 acres provide habitat for over 200 species of birds, including many neotropical migrants. Park biologists monitor birds to obtain more information about individual species and also because they are indicator species of local and regional change for the larger ecosystem. Documented effects of DDT on peregrine falcons and brown-headed cowbird nest parasitism on songbirds have alerted us to the dangers of pesticides and over-development. In the Sierra Nevada, these factors are implicated in the precipitous decline of the willow flycatcher.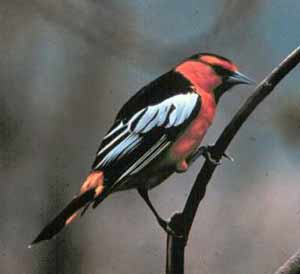 NPS Photo
Several monitoring programs are currently underway. Park staff record peregrine falcon activity on an annual basis, the Sequoia National Forest conducts annual California spotted owl surveys both adjacent to and within park boundaries, and in 2000, wildlife biologists coordinated the first annual SEKI Christmas Bird Count. In 1991 and 1992, the Institute for Bird Populations (IBP) operated two MAPS (Monitoring Avian Productivity and Survivorship) bird-banding stations in Kings Canyon. The parks have recently received funding to reestablish these stations. Park staff are seeking funds for a needed park-wide bird distribution and abundance survey. In 2000, the IBP completed an assessment of backcountry meadows in the parks to recommend which ones should be designated Important Bird Areas. In 1995 and 1996, baseline data were collected on brown-headed cowbirds - an obligatory nest parasite which drastically reduced the nesting success of host species and their numbers will be monitored in the future.
Sightings
In 2000, we recorded two rare sightings, a gyrfalcon and a great gray owl.