2013 Fire Restirctions

Due to high fire danger, fire and smoking restrictions are now in effect on all National Park Service land in the Santa Monica Mountains National Recreation Area. For details, please download the public notice or call 805-370-2301. More »
Update on Park Closures

All NPS trails are open at Rancho Sierra Vista/Satwiwa! Currently, this park site is only open sunrise to sunset.
Recommended Riding Sites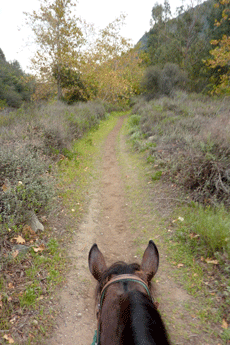 These are just a few of the possible horseback riding sites in the Santa Monica Mountains. We encourage you to explore more approved trails in the mountains.
National Park Service
Cheeseboro/Palo Comado Canyon: there are many entry points, but horse trailers may be parked only in the main lot (entrance near 5800 Cheeseboro Road) or at Old Agoura Park (corner of Driver Ave and Chesebro Road). Trailer parking may be difficult on weekends due to high visitation.
Rancho Sierra Vista/Satwiwa: use equestrian parking lot inside main entrance (at Via Goleta off Lynn Road). Horses are not allowed in Satwiwa Natural Area.
Zuma/Trancas Canyons: trailer parking at Zuma Canyon Trailhead.
Solstice Canyon: Limited Trails, Trailer Parking limited (5 trailer max.), (Riders are Strongly urged to ride weekdays only, avoiding weekends due to limited parking and high visitation)
Backbone Trail: check different trailheads for access and trailer parking.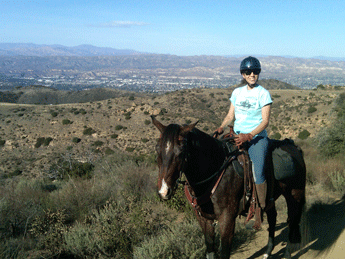 California State Parks
For access and parking, check out the park map or contact the park for more info.
Topanga State Park - 310-455-4196
Malibu Creek State Park - 818-880-0367
Point Mugu State Park - 805-488-1827
Will Rogers State Historic Park - 310-454-8212
Did You Know?

Many hands spanning different generations and agencies continue to turn back the clock on damage to the fragile environment at Zuma Lagoon. After the removal of debris and the restoration of native plants, beach visitors now find a living wetland with 108 species of birds and colorful wildflowers.